When a 28 year old headstrong, funny and witty reporter Ayesha covers a complex story, she's just knocking on controversy's door that gladly opens. For her, Karachi is a city of love, adventures and misfortunes. Her family including her Abbu, rival pet cat and her dear 4am friends are the only ones she could look up to for everything. Although she is just like any other young adult who is flustered with her hysterical boss Kamran, drinks gallons of beer, hits the pubs, loves fashion and has  flings with hot dudes, there is an emptiness in her life when it comes to her life. Follow a series of dates post which she finds herself in the web of lies, dating and mystery again till she finds her "Mr. Right" in shining armor. Running from  pillars to post, this young feisty reporter stumbles upon many adversities which include the gunmen, near miss from death, starlets, elite teenagers with a gray streak to the who's who of Karachi.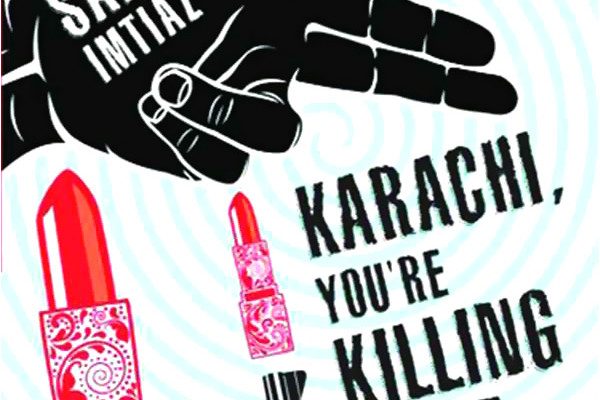 A recent book on Karachi, Bilal Tanveer's "The Scatter Here Is Too Great," sketched the city of Karachi so vibrantly well that I felt something missing in Saba's rendering of the city. The background detailing was good, but it didn't make a connect with me as a reader. But the author scores good in character sketch-ups . The narrative enjoys a decent pace, and is entirely in first person. And the 'Headline of the Day' is funny, like really funny. A couple odd one-liners in the book cracked me up bad.
This is not a story of terrorism nor a mishap faced by the city but a feisty girl's everyday story which is a concoction of lies, deceit, love, passion, hate, friendship, misfortunes and trust. A story which will keep you glued to your seat. The protagonist is portrayed to be the 'Modern new age Girl" who lives her life on the edge and doesn't settle for mediocrity. An intelligent storyline with good plot and eclectic mix of suspense, humor and fantasy. Although not a memorable saga, this forms for a decent read when your mood's light. It has its thrills and adventures in place, so as a reader you don't have a single dull moment reading it. I'd suggest you go for it.
Overall Rating: 3/5
You may order the book from Flipkart here :

About the author:
Saba Imtiaz is a freelance journalist in Pakistan. Her work has appeared in The Christian Science Monitor, the Guardian and The Revealer. She spent a year working in Jordan for a non-profit organization. Her first novel, Karachi, You're Killing Me!, is being published by Random House India in February 2014. She is currently working on a book about the conflict in Karachi, where she lives.