It's been so long since I last read a thriller, for all my lust for thriller and mystery had been satisfied by Benedict Cumberbatch. So after reading the blurb of the book, which says – "Twisted within the double helix of menacing politics and hidden lust, Prisoner, Jailor, Prime Minister is a scorching account of Siddhartha Tagore's fascinating journey from Harvard to 7 Race Course Road" – I decided to up the ante and give the book a chance.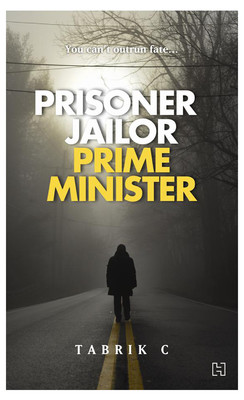 The main protagonist of the book is Siddartha Tagore , a music prodigy and son of a famous political leader. The book flits between present and past as the protagonist narrates his life. Destiny combines with his political lineage and he goes on to become the Prime Minister of India . The character sketches of Siddartha and his friends at Harvard are complicated, intense and cannot be described easily in a few adjectives. Tabrik doesn't attempt to glorify or typify the characters , and leaves the judgement upon the imagination of the readers as they read the emotional turmoil, weaknesses and mental state of characters.
The narration is edgy, dark and brings out even the subtlest of emotions. The sexual lust painted and assimilated in the psychological frame leads to vivid imagery and leaves strong impression upon your mind. The book comes under the category of political thriller, but the plot ends up more like a personal revenge set in the background of a political drama.The nuclear explosion, jehadi groups and protagonist's strong reaction to Chinese policies give a nice start to the book, but the lack of details is evident and if you are someone who wants to read the book for its strong political angle, you might be disappointed. Plus the author gives subtle hints, and someone who reads a lot of thriller might find the climax predictable.
Prisoner, Jailor, Prime Minister is Tabrik's debut novel and scores an edge over the writing of other young authors like Chetan Bhagat and Durjoy Datta because of its strong writing and striking intricacies. So, if on a lazy sunday morning , you decide to remain in bed all day long, take the book and read it in one go.
Overall Rating: 3.5/5
You may order the book from Flipkart here: