Poetic and extremely graphic, Neel Mukherjee's epic novel The Lives Of Others begins with a penurious laborer's struggle to feed his family, who, dejected after the many refusals to sought help, kills his wife and children in an extremely violent outrage, before submitting himself to suicide. In an extremely contrast follow-up, the relatively insignificant agitations of the Ghosh family are detailed, exposing extreme polarities between rich and poor, pointing out how equality in this democracy is a farce. Profound much.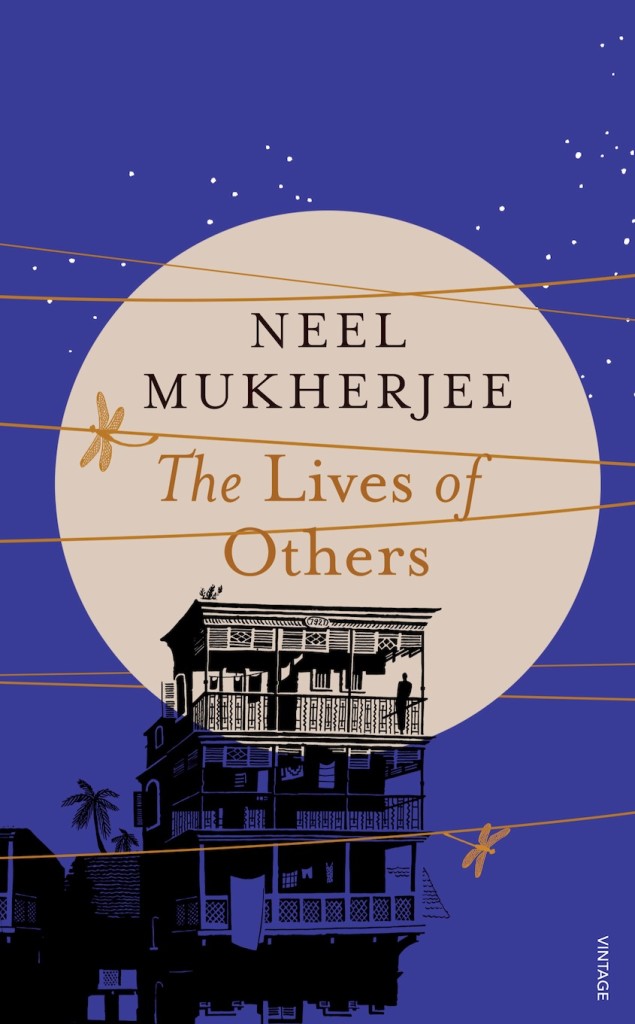 The family portrait shot in this book is not a happy one. A typical middle-class Bengali joint family, the Ghoshes comprise of the elderly Prafullanath and Charubala, their children and their spouses caught in the web of materialistic pursuits, and their grandchildren who are influenced heavily by Western culture/music. There is an underlying empathy (sometimes anger) as Neel brings out the desires, thoughts and insecurities of each and every character (even the Naxalites), each and every aspect richly described. There's a character in the book who is a coprophiliac (that's a first for me in a novel), and his obsession is sketched in painstaking details. 
The scope of this book is gigantic, and it sure is an overwhelmingly big book to read and understand (thank goodness for the family tree and the Bengali relation title guide provided in the book). You take some time initially knowing the characters and what they're individually going through, why they behave as they do. What makes the book even more engrossing are the various shockers peppered throughout, abruptly changing the world as presented in it. The novel glides over noteworthy events in Calcutta's (now Kolkata's) history – 1943 Bengal famine, 1946 Partition, rise of the Naxalite movement during the early 70s – a movement that swallows Supratik Ghosh, undoubtedly the most significant character in the book, but not the only protagonist. Supratik is the grandson of Prafulnath Ghosh, and finds the hypocrisies and unkindness in his home really suffocating. While at Presidency College, he starts developing extreme political and social ideals, and along with a group of fellow students/comrades goes to Medinipur district hoping to stir up a revolution.
It's during these years that Supratik writes several letters to a widowed lady with whom he's fallen in love, and its through these letters that we come to know of his revolutionary activities. I can't help but draw a parallel between Supratik and Kay Kay Menon's character in the film Hazaaron Khwaishein Aisi, where he too describes his doings to his beloved in a similar manner. But unlike in the movie, Supratik never mails these letters. The first-person narrative that's in those letters testifies Neel's skill as a storyteller. Simply brilliant! Apart from Supratik, Sona is a character a reader would root for. Shy and raised by an outcast mother, he almost lives the life of an untouchable in the family. But when the Ghoshes are moving towards a definite economic doom, it's he who rises as the quiet savior, thanks to his pure mathematical genius. I did a silent cheer-cry for this guy!
Character sketching and background detailing are the major wins of this book, for these add the graceful artistic touch to our visualization. Neel Mukherjee has created a masterpiece that's affluent in its flowery prose and in its usage of brilliant metaphors, both of which accentuate the intensity of the unfolding drama. It's been real long since I felt this satisfied having completed a book. A wonderful, intelligent book.
Overall Rating : 5/5
You may purchase the book from Flipkart here: 

About The Author:
Neel Mukherjee was born in Calcutta. His first novel, A Life Apart (2010), won the Vodafone – Crossword Award in India, the Writers Guild of Great Britain Award for best fiction and was shortlisted for the inaugural DSC Prize for South Asian Literature. This is his second novel.