Ever seen a bullet-smashed windscreen? The hole at the center becomes an eye. You see less through it but you gain focus, sharpness. That's how it is — our wounds become our eyes. Seeing outside becomes seeing inside. Listen.
The Scatter Here Is Too Great is nothing but a convergence of several perspectives of a single event (among other things), perspectives so strong that every fragment of the story holds an essence of its own, and at the end these fragments layer up beautifully to channel a potent love for the city of Karachi. The event- a bomb blast at Cantt station.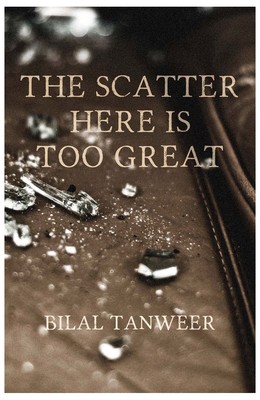 Bilal Tanweer is being hailed as a major voice of Pakistan- and not without a reason. The philosophy he's underlined in his debut and veined into his characters run so deep and are so introspective that it makes a strong connect between the book and the reader. And while the several splendidly described characters make up for the muscle and bone of the book, it's their dreams, relationships, ambitions and fears that brings out the soul in this hardcover. The character sketches are extremely detailed- a kid who hates being made fun of at school and who wants to grow up and fight India, an ex-communist cum poet who's made fun of by youngsters in a bus, a cartoonist drawing up the communist while he's harassed, a nineteen year old who sneaks away his mother's car to meet a girl, a businessman yearning for his son, a legal car-retriever who takes cars away from people who've defaulted on bank loans, an ambulance driver whose life turns upside-down after the blast, and a girl who narrates stories to her younger brother in an attempt to conceal her grief.
Blood becomes ink as the author sketches the background imagery for his stories, and the writing pads are the scattered lanes of Karachi through which the bus of life finds its way. The narrative is clever. Very clever. Every story holds relevance with every other story, and it's just a delight when you link them all up in the last few pages of the book. There are several sub-plots featured in this novella which celebrate the father-son bond, some estranged, some friendly.
My personal delights are the metaphors peppered unevenly throughout the book. Genius! Humor and violence enjoy their fair share in the narrative and hit the proses quite often, immensely boosting their appeal.
As a reader, I'm just glad that Bilal gathered the scatters. A seriously awesome debut. Highly Recommended.
Overall Rating: 4/5
About The Author-
Bilal Tanweer was born and raised in Karachi. His fiction, poetry, and translations have appeared in various international journals including Granta, Vallum, The Caravan, and Words Without Borders. He was selected as a Granta New Voice in 2011 and was named an Honorary fellow of the International Writing Program at the University of Iowa. He lives in Lahore.
Publisher: Random House India
You may order The Scatter Here Is Too Great from Flipkart here.