"How to Become a Billionaire by Selling Nothing" is a story about two men, one of whom Mr Jhunjhunwala is the world's richest man who is also a victim of awesomitis, and the other is Mr. Shastri who's an entrepreneur and plans on selling "NOTHING". According to him the people are in dire need of Nothing in their lives as they have Something and Something + Nothing equals Everything and that would lead to the ultimate happiness. He explains to Sri Sri JhunJhun, as our protagonist is called because of his awesomeness and jaw dropping personality, about his revolutionary idea of sucking in nothing from nowhere. But Jhunjhunwala, with his unparalleled IQ which could even beat Einstein's, decides not to back him up and instead writes him a check of one lakh rupees to get himself treated.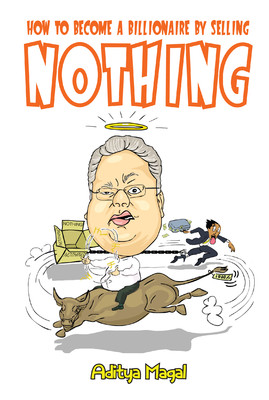 The story continues where Shastri actually frauds Sri Sri JhunJhun and makes him a 15 percent partner in his company. However, angry with the way this turned out, Jhunjhunwala still decides to go ahead with the partnership because the boxes of Nothing from Nowhere are selling like hot cakes and the company Notco selling them is setting new records everyday on the Bombay Stock Exchange. Though the joyride doesn't last long when a litigation claiming that Nothing causes cancer, and another case claiming that the idea of Nothing was copied from Notcorp, a company owned by Shastri's partner from his days of selling agarbattis. Shastri continues to claim that Nothing is his idea and convinces Jhunjhunwala that he can prove the same in court, and persists planning stuff to expand his business, and at the same time readies to be the fastest man to become a billionaire in the world.
The story climaxes when Jhunjhunwala is about to win a litigation which claims that he had actually forced Shastri into cheating on his partner and setup this business until Shastri is called before court and he lies. Jhunjhunwala then decides that he would speak to Shastri and sort this out. But Shastri is in mood of speaking and talks to Jhunjhunwala like a man possessed and instead tells how afraid he is of losing his money and status. Jhunjhunwala then decides that he has to set things straight and bring Shastri back to earth. The last and the most interesting part of the story begins with Jhunjhunwala along with his fellow investors brings Notco to its knees.  Jhunjhunwala realizes how he had destroyed Shastri ultimately leading to his suicide but also understands what Shastri was and what money had turned him into and how it was necessary to put things right.
Overall this is a good story with a great narrative and great comical touch to it. It also has a very profound message telling how money can turn a perfectly normal person into such a selfish, arrogant being who cares of "NOTHING" more than his own desires and dreams. I would say that the book deserves a sincere read for its moral, and the way it's ended.  It may feel like hard work going through the book with the author's narration of Jhunjhunwala, but if you do so, you definitely won't be disappointed.
Overall Rating : 3.5/5
You may buy this book from Flipkart here :  

About the author-
Aditya Magal, or Sri Sir Jhunjhunwala as he is known on Twitter, is an Indian blogger, part-time business analyst and twitter celebrity. His blog gets over 30,000 unique followers every month and he is followed by over 45,000 people on Twitter.
Mr. Magal is an economics graduate, and worked as a Business Analyst till 2012, when he left the corporate world to write full time. His articles have been featured on Hindustan Times Brunch, Outlook, Economic Times, Hindustan Times,and JAM Magazine. His blog, which he based on a parody of Legendary Indian Investor Rakesh Jhunjhunwala, has evolved into one of the best known humor brands in India and has been acclaimed extensively by Forbes, Outlook, HT, DNA, and the Economic Times.