1887 – National Mathematics Day. Revered as a 'Genius of his time', eminent math-magician Srinivasa Ramanujan was born. Ramanujan was one of the greatest mathematicians in history. An autodidact, he championed trigonometry by the age of twelve, re-discovered Euler's identity and studied the Euler-Mascheroni constant and Bernoulli numbers. He has nearly four thousand results to his credit.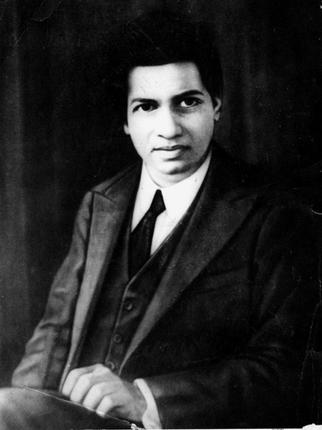 The state of Tamil Nadu observes December 22nd as State IT Day. To commemorate this mathematical wizard's achievements, the Government of India brought out a postage stamp on the occasion of his 75th birthday in 1962. In 2011, Prime Minister Dr. Manmohan Singh declared 22nd December as 'National Mathematics Day' and 2012 as the 'National Year of Mathematics'.
1906 – Eminent essayist, poet and scholar of Urdu, Arabic and Persian, Malik Ram was born. He was a recipient of the prestigious Sahitya Akademi Award and was awarded for his 'Tazkirah-e-Muasireen' in 1983.
1919 – Renowned music director and carnatic musician V. Dakshinamoorthy was born. In his six decade long career, he set scores for nearly nine hundred songs in over 125 movies in Hindi, Malayalam and Tamil. In 1971, he received his first Kerala State Award for Best Music Director. In 2007, he was honoured with the 'Swaralya Yesudas' Award.
1928 – Former Tennis Ace Naresh Kumar was born. He represented India in the Davis Cup and also captained the team.
2011 – Former India cricketer Vasant Ranjane passed away. Ranjane, a right-arm fast, made only sven test match appearances for India but had an impressive first-class career. He picked up 175 wickets in the 64 matches that he played at the domestic level at an average of 27.73. He is remembered for his dream of a debut when he dismissed 9 Saurashtra batsmen conceding just 35 runs including a hat-trick while playing for Maharashtra.