Samsung Galaxy Note 4, the South Korean company's next big launch, has made a surprise appearance online courtesy GSMArena, where leaked images reveal new back and side designs. The images detail a leather-texture at the back, unlike the stitch-like back of Note 3, and side-frame with plastic inlay that looks metallic. There's no design-change at the front, which shares its appearance with the prior models. The S-Pen holster is spaced into the side of the handset, while the microUSB 3.0 finds itself at the bottom with the speaker grille. Samsung hasn't given an official statement on these leaked images yet.

It is expected that the display on the Galaxy Note 4 would be 5.7-inches (just like in Galaxy Note 3), with an improved pixel resolution of 2560 x 1440 AMOLED (QHD). The retail box of the Samsung Note was leaked in the images too, and with the stark resemblance with both the designs, it does add some validity to the leak. Apart from these, the other expected features include a faster processor, a 16MP rear camera and a 3MP front camera, and at least a 3000mAh battery.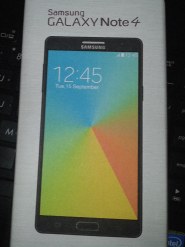 In its usual manner, Samsung shall exhibit the Galaxy Note 4 at an event on September 3, just before the IFA trade show in Berlin, with simultaneous events chalked out in Beijing and New York as well.
This is Samsung's second big smartphone this year, with Samsung Galaxy S5 being the first and its major flagship this year. Expectations of Samsung from Note 4 are huge, since the Galaxy S5 failed to convert many leads and led to a thwarted second quarter result.
It remains to be seen if the Galaxy Note 4 propels Samsung to the Number One position once again, since Xiaomi and Micromax toppled it from its throne in china and India respectively. Do you think that Samsung, given its gargantuan prices for its handset, be able to reclaim its throne and stand in a market where similar features and quality are offered for much less? Let us know in comments below.
Via : GSM Arena