After creating an array of successful android based smartphones, the South-Korean gadget giant, Samsung has launched an Android based tablet-Galaxy Note 8.0. It is a well-designed tablet, incorporated with new features. Samsung Galaxy Note 8.0 is designed to compete with the iPad. This tablet is fast, stable and phone app friendly. The 8-inch screen is relatively sharper with good viewing angles. S Pen, the stylus, is hugely improved compared to the previous descendants. The most important thing for any electronic device, the battery life is also sufficient for prolonged and continuous use. The tablet also contains lot of useful pre-loaded pen-centric apps.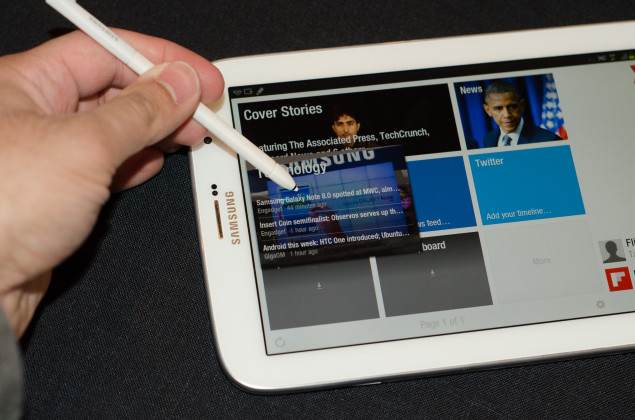 The tablet runs on Android 4.1.2 with TouchWiz. TouchWiz is a front end touch interface developed by Samsung for its smartphone. It has an 8-inch screen with 1280 X 800 pixel Wacom-optimized LCD, having pixel density of 189 ppi. With a 1.6 GHz quad-core Exynos 4412 SoC processor, 2GB RAM and 16 GB internal storage, the tablet performs well while switching from browser window to another. It has a 5 megapixel rear camera and a 1.3 megapixel front camera, which instigates substantial quality of video calling. The tablet weighs around 130 gm and is 210.8 X 135.9 X 7.95 mm in size.
In design, the phone pretty much resembles Samsung's smartphone line. The hardware buttons, capacitive back, menu buttons and screen seem like enlarged versions of the phone. Due to its compact design in comparison to other tablets, this tablet would be convenient to use in portrait mode only. There is no removable back cover and the Note feels strong and more comfortable when compared to the average Galaxy smartphone. S Pen slot is placed at the bottom right of the tablet. The display of the home screen focuses hugely on colors and widgets. For amateur Samsung users this show of colors would be striking, but Samsung smartphone users will feel accustomed to this display. ANote, Awesome Note app, has been specially built for this Galaxy tablet. Another striking feature is Note's palm detection algorithm, which works more intelligently than Note 1.0. Third-party game apps, productivity apps provided in the tablet are useful. The performance of the tablet in games and apps is commendable. The things that might dampen the purchase-decision of this tablet are its build quality, strange array of hardware buttons, portrait mode of usage, its cost, limited selection of apps and the resolution of rear camera. Despite these facts, Samsung Galaxy Note 8.0 will benefit from Android 4.2.2 updates and its construction reveals that it is a high-end tablet.
Overall, The Note 8.0 is one of the best Android tablets available in the market.
This review is penned by experts at Reliance Digital.