ASUS India has finally launched the much-awaited 'Transformer AiO' today. The AiO operates as a Windows 8 based PC until detached to function as an Android Jelly Bean tablet.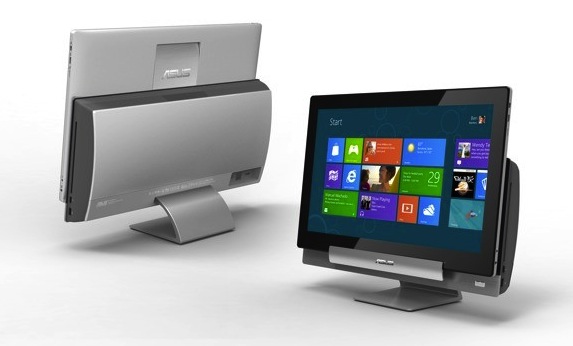 The Desktop mode is powered by a third generation Intel Core processor (i3/i5), NVIDIA GeForce GT 730M (2GB) GPU, 4GB of DDR3 RAM and 1TB of SATA HDD. Connectivity options in this mode include dual-band WiFi (802.11 a/b/g/n), four USB 3.0 and two USB 2.0 ports, HDMI out, Bluetooth v4.0, three-in-one memory card slot, Gigabit Ethernet etc.
Under Tablet mode it transforms into an Android v4.1 device empowered by NVIDIA's Tegra 3 Quad-Core processor packed with 2GB of RAM and 32GB of in-built memory. It is fueled by 38W Li-Ion battery that lasts up to 5 hours. Connectivity options under tab mode are dual-band WiFi (802.11 a/b/g/n), a Mini USB v2.0 port, microSD card slot and Bluetooth v3.0.
The AiO has an 18.4" full HD 10-point capacitive multi-touch IPS screen and a front facing 1MP camera.  Away from the PC station placed on a folding stand the AiO can still perform as a desktop under the remote desktop mode. It also has a carrying handle.
The dual OS hybrid will be made available in the market at price Rs 86,999/- for i3 version and Rs 92,999/- for i5 version.