LG Electronics shall soon be launching their new Ultra HD TV portfolio in India, apart from other smart televisions based on its webOS platform. During the India Gadget Expo 2014, the company launched the world's first Smart TV with Full HD CINEMA 3D and Smart LED Screen on the webOS platform, and unveiled its entire lineup of high-res screens in different price ranges. To the uninitiated, webOS is a Linux kernel-based intuitive OS platform that LG acquired from Hewlett Packard in 2013 for smart TVs.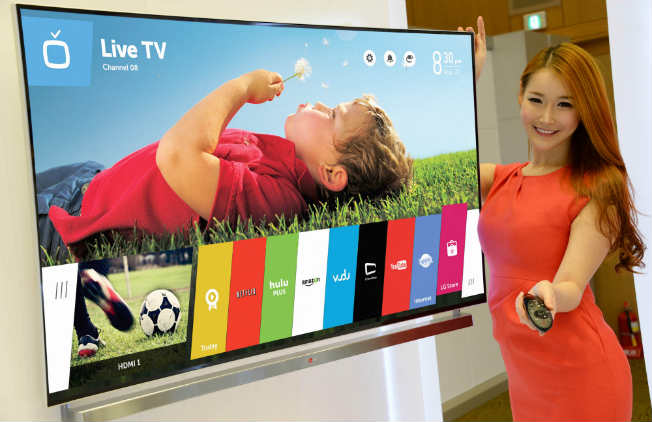 The latest Ultra HD TVs are further enhanced with forward-facing 5.2 multi-channel sound systems developed in partnership with harman/kardon. Complete with LG's ULTRA Surround Sound concept, the speakers shall stand out with their immersive sound experience. The company's Ultra HD Engine Pro provides the optimal processing power required to attain 4K video resolution (i.e., 3840 x 2160) and a proprietary chip that works with the engine to eliminate unwanted visual artifacts. The Ultra HD feature is capable of upscaling HD or Full HD videos to almost 4K quality.
 Rishi Tandon, Marketing head (home entertainment) LG India, told mediapersons attending the India Gadget Expo 2014 at Hyderabad – "At present, we are offering 55-inch TVs in the OLED segment. We will be launching in India a 77-inch OLED TV in a week from now."
webOS TVs feature an intuitive Launcher Menu UI that offers users entertainment options and assists them in organizing utilities into a clean viewing history. The Launcher offers access to a web browser, an integrated 3D world and the LG App Store (where users can choose from latest television shows, movies and games). These TVs have a cinema screen-like design with an ultra slim profile, and incorporates Kinect-like finger gesture control. LG already boasts a sales count of over a million units of webOS enabled smart TVs since its inception in March 2014. Prices of the Ultra HD TVs differ with screen sizes, and are priced between Rs 1.5 to Rs 15 lakh. The webOS Cinema 3D TVs are offered in the price range of Rs 82,900 to Rs 15lakh.