LeEco started out as LeTV, and spent its early years focusing on creating online video content for the Chinese market. Recently, the company has been expanding into hardware, including televisions, smartphones, and even electric cars. It set foot in this part of Asia by launching its budget friendly smartphones – Le 1S, Le 2 and Le Max2, all these gadgets did not compromise much on features but were priced aggressively to attract Indian Consumers and they did. It recently launched a handful of new audio accessories to boost its mobile ecosystem, including the LeMe Bluetooth headphones. In LeEco's range of accessories, the wireless, on-ear LeMe headphones can be purchased from Amazon at Rs. 2,499.
DESIGN & COMFORT:
The LeMe Headphone at the first sight looks quite impressive with its droplet design and trendy colour option to choose from; I got orange to review, matches the color of my sports shoes.
Indian Nerve also hosted a giveaway for these headphones, so next time if don't want to miss such an exciting giveaway, then follow us at www.indiannerve.com or follow our Facebook page to stay updated.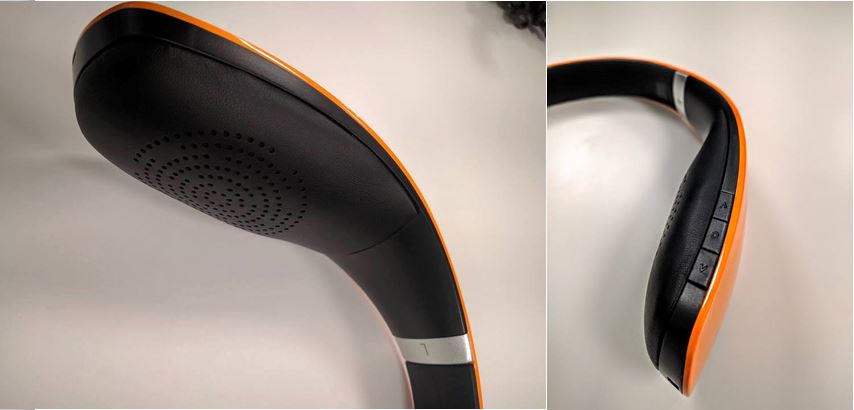 Enough of all this, lets get straight to the review. The design is superb, I personally loved it when I saw the pictures, feels good to own one and flaunt it in your society or office; a thumbs up to the look and feel of headphone to LeEco. It's slim throughout with a smooth flow all around. The orange plastic covering is bold and I loved it, but then you have other colour options to choose from; grey, blue, pink, white and red.
The padding on the ear bulges out and has no outer lining to stop the sound leak, so expect your buddy to be listening to your genre of music for free. There is some padding on the head band but it hardly makes any value. On the comfort front, this headset is a bit disappointing. After about 20 mins of usage my ears started to hurt because of  the minimal so called padding. So if you are planning to buy this headset to watch movies, you might need to give your movie a halt every 20 mins to ear out some pain.
SPECIFICATIONS:
On the LeMall website these are the specs:
Bluetooth version : 4.1
Digital signal processing : CVC 6.0 (noise reduction and echo cancellation)
Speaker frequency response: 20Hz– 20,000Hz
Driver type : Moving coil
Sensitivity : 108dB
Music playback time : 10 hours
Talk time : 10 hours
Standby time : Up to 26 days
Charging time : 2 hours
Built-in microphone : Yes
Headset weight : Approx. 240g
Headset dimensions (L*W*H) : 180*176.8*62.8 mm
Warranty period : 1 year from date of purchase
Now one cool thing I observed is that when you connect this headset to an iOS device, the battery bar becomes visible beside the Bluetooth mark on the status bar at the top. However, Android loses out on this cool feature.

There is a charging on the bottom of the right earpiece. It also houses 3 buttons on the right earpiece, 2 on the corner for volume up-down and song next-previous change and the middle one for connecting to a device and play/pause of a song. To pair with a new device you need to long press the middle button till you see a blue LED turning on from red(denotes power on). To connect to a previously paired device just long press the middle button till you see a red light blinking. The LED is placed weirdly between the volume and power button and that definitely  is not best way to put it . To change the volume you need to long press the corner buttons and to change a song a single click the same buttons. Also every time u change the volume it beeps in your ears which is irritating. The company states the range of the headphones to be 10m, if uninterrupted, this range is fairly accurate or I would say – slightly underestimated. The battery charges to full in about an hour and the Adjustment length is quite small.
PERFORMANCE:
We used Oneplus One, Apple Ipad Air and HTC One E8 to test the headphones. Tracks in Focus : Paolo Nutini – Iron Sky, DJ Snake- Turn Down for What, 20syl – Ongoing Thing. With IronSky we observed that the detailing was missing, there is a lot going on in the songs with vocals but the headphones were not able to separate those elements and deliver in the manner the song is with good pair of audio sets. With "Turn Down for what" the headphones could just not handle the bass and the amplification system just tried to make it as loud as possible, this song was a total let down on this device. "Ongoing Thing" is one of my favourite and was the only song which did fare well on this device but still the mids and the highs were suffering due to aggressive lows from this device. All in all, the device was just trying to get the sound as loud as possible rather than getting it in a qualitative amplified manner. In the calling division, it has an in-house microphone which is clear but the voice on the other end was heard a bit low than the one coming from phones microphone. Bollywood music fared better on these headphones. Songs from Amit Trivedi's Lootera such as 'Zinda Hun', 'Manmarziyaan' had clear vocals but the detailing in the sound of instruments was not deep enough.
VERDICT:
All in all, this device looks great with trendy colours, though uncomfortable to wear for longer periods, performs fairly in the sound division and comes with decent battery.
PROS and CONS
PROS:
Trendy design
Lots of colours to choose from
Battery life
CONS:
Bass
Uncomfortable over long period of use
Adjustment length is small
Any questions you have about the product, you can ask us in comments below.
Photography by Harsh Dev.