What strikes your mind when you hear the word Hyve ? Bees, right? Bees travel all around the world gather pollens from various plants and come back to their hive to create the elixir called nectar. So a hive is a place where elixir is created by bees who bring their individual flavor to the mix and create a compelling product that literally has the bee's sweat and blood. The story of Hyve Mobility is not so different – Sharad , Aditya and Abhishek came from diverse backgrounds and started  the New Delhi based Mobility startup – Hyve  that does not believe in just making smartphones but also in providing end to end support to the customers, Hyve aims to give its customers a holistic experience and not just a product. In a world where for most smart phone makers the device is the end product , Hyve wants to change the dynamics by putting more focus on the entire process of purchase-usage-service.
Though Hyve has entered an extremely Jam Packed budget smart phone segment, there are few features that make it unique . Here they are :
Both Hyve phones – Buzz and Storm come with Hyve Care, which offers 2 years of manufacturer warranty, 1 year complimentary insurance against damage and complimentary pickup and drop across India. The company promises that the phones will hardly ever go to service stations in their lifetime but in case they do, the customer will hardly have to move an inch to get the phone to the service station.
After apple first introduced the fingerprint sensor in 2013 , all other makers jumped on to the technology and in no time most premium and non-premium phones had an inbuilt sensor to sense the unique fingerprint of the user for enhanced security. But what most makers did not realize is that the fingerprint sensors can have a much broader usage. One such usage was patented by Hyve and is now called Touch2call, which lets you assign frequent contacts to a specific finger prints.  Now you can save the contacts of all your girlfriends on your fingerprints, literally.
There are two kinds of people in this world – 1) Who like to keep a layer of resource eating UI over  the stock UI and 2) People who believe in the aesthetic quality of simplicity. I belong to the 2nd category and that means I like to keep my android the way it was shipped by Google, so when all other companies try to give their brand's personality to Android UI , Hyve decided to stick with stock Android  and keep things simple and fast. This makes Hyve phones one of few that come with Stock Android.
Fast Charging and Braided USB Cable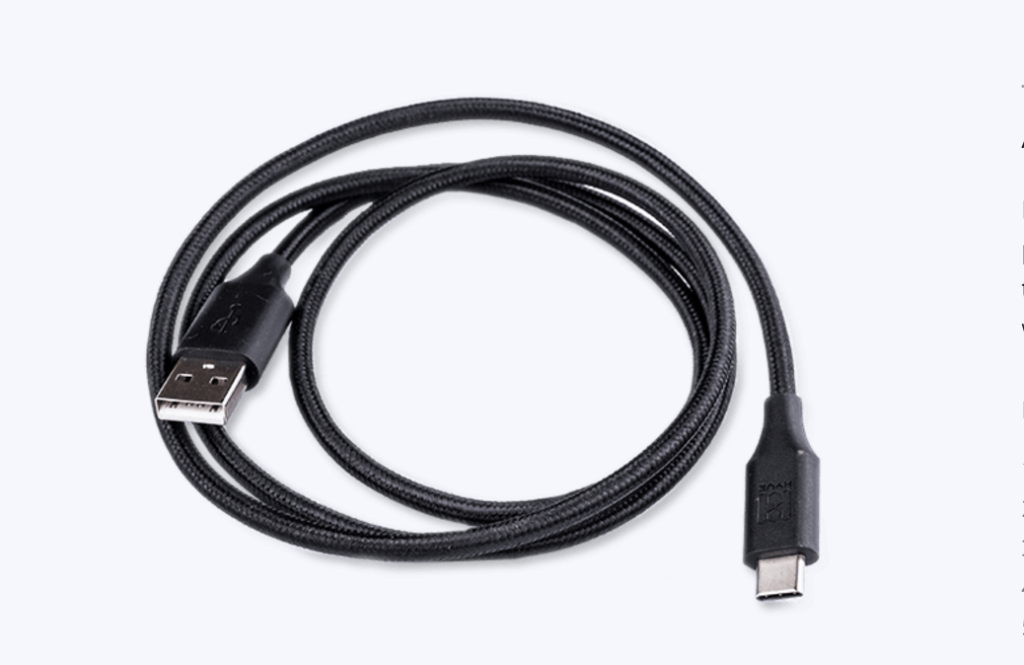 USB cables break and that is the truth no one can refute, until they see the USB cable that ships with Hyve phones. It literally feels like a Kevlar coated USB cable that can withstand force (Newtons) way more than other USB cables.
Any physics enthusiast here, who would be interested in the actual value of the force that the cable can withstand ? Let me know in the comments below.
Hyve currently offers two phones 1) Buzz – Rs 13,999 and 2) Storm Rs 6,999. Both phones have inbuilt storage and an option of expandable storage via micoSD cards.
Both Buzz and Storm are currently available on Flipkart.