Kobo has finally anchored in India. The renowned e-book reader developing company collaborated with WHSmith, Crossword and Croma to launch four of its digital products in India- Kobo Touch Kobo Glo, Kobo Arc and Kobo Aura HD. Buyers shall have an access to Kobo's eBookstore that includes over 4 million titles spanning 68 languages. Acclaimed Indian authors such as Jhumpa Lahiri, Ramachandra Guha and Saching Garg among others have their titles listed at the eBookstore.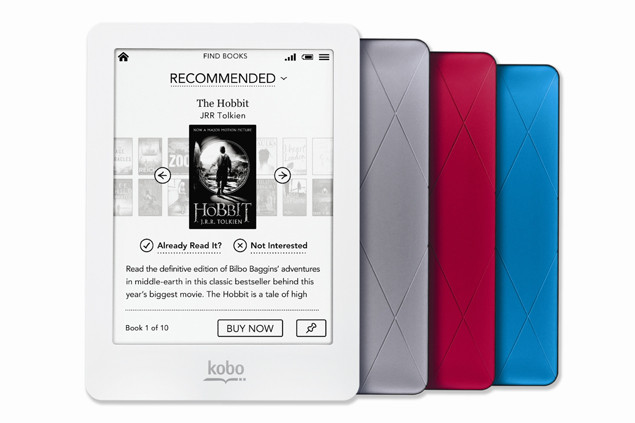 Kobo is offering a special Diwali price for the festive season on two Kobo devices- the Kobo Arc and Kobo Touch, which could be availed for Rs 9,999/- (originally Rs 11,999/-)  and Rs 6,999/- (originally Rs 7,999/-) respectively. All Kobo tablets enjoy USB and Wi-Fi connectivity. Wayne White, Executive Vice President & General Manager, Kobo, expressed his excitement at launching a 'world-class digital reading platform' in India, and added that with the e-commerce boost, the demand for digital content will only grow. He believes that India is in the infancy stage of the 25-year transformation period required to shift from print to digital reading. Having partnered with Crossword, Croma and WHSmith, Kobo plans to lead this transformation by delivering an entirely localized reading experience.
The Kobo Touch eReader sports an anti-glare 6-inch Pearl E-Ink touchscreen that offers an almost print-like reading experience and could be read even in bright sunlight. This thin and lightweight eReader is portable-friendly and includes many features to personalize reading experience.
Front-lit Kobo Glo offers the ComfortLight technology, which lets users read anytime they want to- be it day or night. Its durable screen, customizable fonts and page-turning features enhance the ebook reading experience. For screen, it shares the same 6″ display as Kobo Touch.Kobo Arc is perfectly suited for users who even seek multimedia awesomeness in their eReader. This Android 4.1.1. Jelly Bean running eReader includes great content for your entertainment- books, movies, videos, and more. Kobo's exclusive interface on this tab emlpoys a cross-media engine to prompt similar content based on what users 'pin' to their Tapestries. The HD display provides clear, sharp text and its 16 million color capability infuses videos and images with life.
Kobo Aura HD has the highest resolution among the latest released eReaders. It has a 6.8" Pearl E Ink touchscreen with 265 dpi, and its 1GHz processor makes it the fastest eReader in the Indian market as of now.