After unveiling the Zenfone range of smartphones earlier this year in Consumer Electronics Show, Taiwanese electronics major, Asus, is planning to launch them in Indian market on July 9 this year. The topmost model of this series will be called as Zenfone 6, which, as the name tells, will feature a massive 6-inch HD screen display. The phablet will be powered by a 2 GHz Dual-core Intel Atom Z2580 processor running Android 4.4 (KitKat) version of OS on it. Customers will get a choice between 8, 16 and 32 Gb for internal storage which could be later taken up to 64 Gb via a MicroSD card. The phablet fits two cameras under it hood, the rear one's of capacity 8 megapixel s along with an LED flash, and the one on the front side is of 2 megapixels.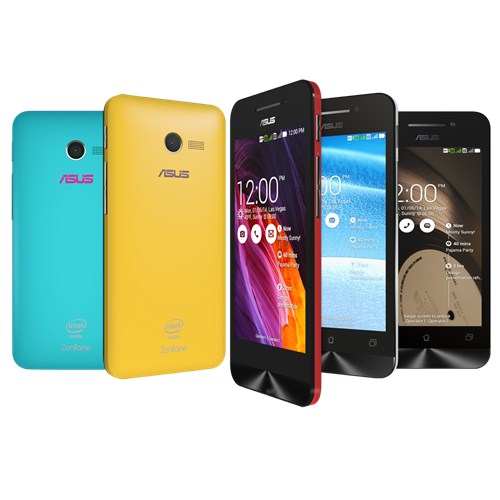 If we look at Asus Zenfone 5, showcased at CES earlier this year, features a 5-inch screen display with 720 pixels of resolution. Now after choosing between 8 or 16GB of internal space, customers will also have privilege to choose a processor for their smartphone among 2GHz dual-core Intel Atom Z2580 and 1.6GHz dual-core Atom Z2560. The phone's RAM will vary among 1 or 2 GB to its internal storage accordingly; same would be the case with Zenfone 6. On the smartphone's rear end, there's an 8 megapixel camera with LED flash and on the front it's of 2 migapixel. Apart from these, rest of the features are same in Zenforce 5 and 6.
The third phone in the Asus Zenfone series will be the Zenfone 4, obviously featuring 4 inch display with 800 x 400 pixels of resolution. Powered by Android (4.0) KitKat version of OS, the phone runs on Intel chipset dual-core 1.2GHz Atom Z2520 processor. Primarily, the phone has 8 GB of storage which could be expanded up to 64 GB via a MicroSD card. On its rear end, there's an 8 megapixel camera with LED flash and on the front there's a VGA snapper. Now at Computex 2014, the company has brought up a revised version of Zenfone 4 by slightly increasing the screen size to 4.5 inch with the resolution of 854 x 480 pixels.
But as per the trend suggests, the upgraded version would've suffixed 4.5 to it instead of 4; let it be, it's known as Second-Generation Zenfone 4. There is no word regarding the prices of these phones, but we expect it near to Rs. 25000, targeting mid-budget users.