Academy award winner Angelina Jolie has directed and produced the upcoming war drama film titled 'UNBROKEN' based on the 2010 non-fiction book by Laura Hillenbrand, Unbroken: A World War II Story of Survival, Resilience, and Redemption, scheduled for release on December 25, 2014. A chronicle of the life of Louis Zamperini, an Olympic runner who was taken prisoner by Japanese forces during World War II, Unbroken stars Jack O'Connell, Garrett Hedlund, and Domhnall Gleeson in the lead.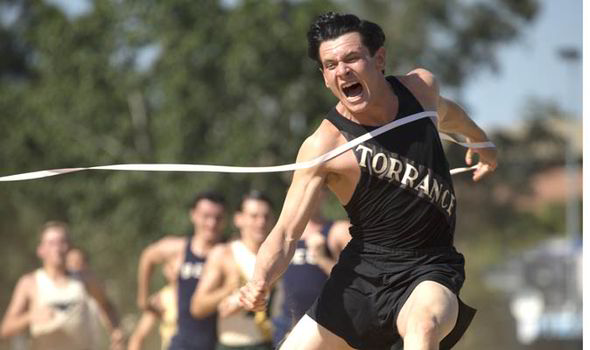 Angelina seems to have done a splendid job in her research for the film. In fact, Zamperini himself (who, sadly, passed away just last week at 97) participated in the movie's production in a consulting role.
Zamperini comes out to be a really inspiring figure. Born in 1917 as the son of Italian immigrants, Zamperini grew up poor in Olean, New York, went on to compete in the 1936 Olympics in Berlin (where he drew the eye of none other than Adolf Hilter), and enlisted in WWII, flying bombers out in the Pacific.
In April 1943, he and his crew crashed off Oahu, spent 47 days adrift in the ocean and ended up being captured by the Japanese navy, who subsequently abused them in prison until conflict ended in August of 1945. That's a lot to fit in the confinement of a movie
Watch the trailer here: