When Yukta Mukhey returned victorious from London after winning Miss World 1999 pageant, one oblivious member of the huge, welcoming crowd was Nisha Pahuja. Impressed by the media attention showered on the beauty queen and the all round immense sense of national pride, the seed of an idea was planted. That seed cultivates into "The World Before Her', the most devastating film that you may see playing at the theatres in a long time.
Shot at 2 diametrically opposite month long camps, it traces the journeys of Prachi Trivedi, a young adult who trains impressionable single-digit-old girls at the Durga Vahini camp, the women's wing of the VHP, and Ruhi Singh, a middle class 19 year-old from Jaipur competing at the Miss India pageant in Mumbai. While Prachi is a regular and almost a legend at such camps, it is a completely new experience for Ruhi, who hopes to win the title and get the opportunity to represent India at international stage and hence, instant stardom.
When asked on camera, Prachi unflinchingly admits she is prepared to pick up arms against the enemies of her religion. She passes on this conviction to the nine year-olds at the camp, training them to shoot firearms and slogans alike. This segment contains the most shattering scene of the year where you see a promising nine year-old girl getting brainwashed gradually to the point of pledging loyalty to the camp and declare that she is proud to not have any Muslim friends.
A more glamorous, plastic world awaits Ruhi, where girls are passed through a "factory", receiving cosmetic treatments and personality lessons, including Botox shots. Though it seems comfortable on the outside, the general mantra followed is "Does it pain? Well, it looks fab!"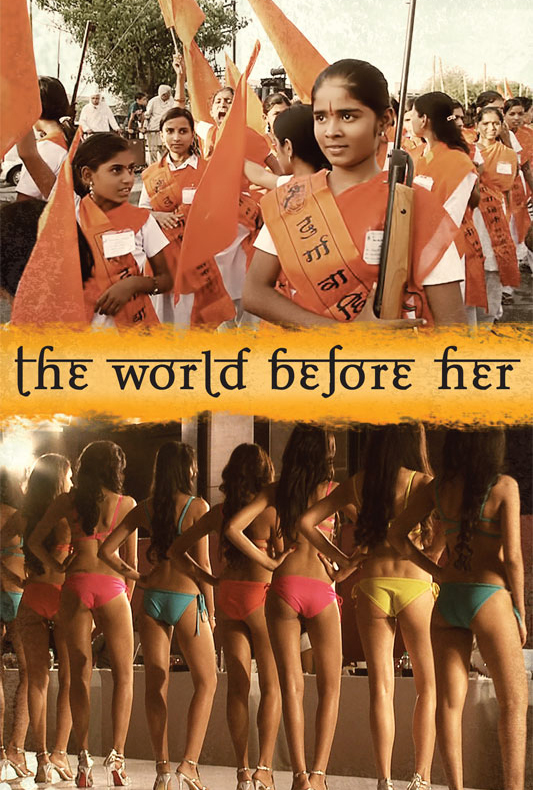 The immense pressure causes her to break into tears sometimes, reaching out to her simple-minded parents, immensely proud of her ambition and achievements. Equally proud of her achievements are Prachi's parents, a sweet mother and an extremist father who makes the Khap Panchayat look ultra-liberal. Extremely convinced that a girl becomes a woman only once she has conceived, he believes Prachi should and will also follow the same path of "grihastha".
Nisha Pahuja, the first film-maker to get permission to actually shoot at a Durga Vahini camp, gets some incredible footage and honest confessions from the various people involved. She rarely cajoles them to let out more than what they want to. The fact that these are two poles entirely convinced of what they are doing helps and the big picture left me shivering in my seat as the end credits rolled.
The version I saw did not have an interval, and at a runtime of 90 minutes it is highly entertaining too with its poignant moments of surprising humour. But, more importantly, it told me about the entire spectrum of people we live with. I am just glad I am somewhere in between.
I really don't feel like giving this one a rating, but at gunpoint, it would have to be the maximum one. Watch it on the first opportunity, and take your friends with you. I can assure you an hour of numbness followed by a weekend full of heated discussions.
Overall Rating – 5/5