As someone whose knowledge of Indian poetry in English is limited to Rabindranath Tagore and recently Jerry Pinto ('selected' poems at that), reading The Book of Chocolate Saints is a huge step up. 'Chocolate' here refers to the darkish skin complexion, its sweetness a metaphor for the pleasures of the flesh. 'Saint' refers to these artists, mainly poets, as their work on self-expression and composition is nothing short of holy to them. Through this fictional biography of a celebrated poet Newton Francis Xavier, we get a glimpse of the poetic era that was and its evolution to the present setting.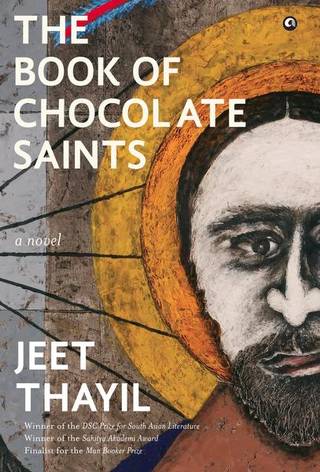 Dismas Bambai, a poet-cum-journalist working for Indian Angle and also our chief narrator for this book, reveals to us through a series of interviews and gossips the personality and accomplishments of Xavier. Xavier, as we come to learn, is staying with his romantic muse Goody Lal in New York, and before wandering into oblivion hopes to have one last exhibition at the heart of his mother nation, New Delhi. In every interview session that follows, Bambai is hoping to gather a new insight that will help him compile the book on this disappearing poet, a book he believes will get him accolades and recognition.
Xavier comes across as pompous and boastful. He gained fame quite early, had his ways and time, and soon after his popularity declined. Alcohol and women prompted him to recite his past work and status in reverence, leaving little room for empathy. He's the kind of character who captured my interest at first, but the interest soon died out. Goody Lal, the young romantic interest of the 88-year-old Xavier, showed immense promise initially but is never a part of any major twist or turn in the story.
Jeet Thayil revisits the space of Indian poets, a niche he has contributed to a lot previously in 60 Indian Poets and The Bloodaxe Book of Contemporary Indian Poets, and does an excellent job of it. His varied narrative stance in seven parts of the book testifies how good a writer he is, and through several cheeky subplots he ensures to catch the attention of the reader. It's not everyday that you get to witness this kind of versatility in a single book.
While I can not vouch for the historical or cultural accuracy of this book, but in an entirely fictional view, I loved how Chocolate Saints attempts to recreate the past and details the struggles faced by poets in the 70s-80s. If the subject doesn't interest you, help yourself to a few pages, and I'm sure the prose will work its magic.
Overall Rating: 4/5
Image Credit: on manorama