Author: Devdutt Patnaik Overall Rating: 3/5
Saw the cover and flipped the book to see the back page. It has these lines – 'I am not sure that I am a man,' said Yuvanashva. 'I have created life outside me as men do. But I have also created life inside me, as women do. What does that make me? Will a body such as mine fetter or free me?' It's the 'fetter or free' that intrigued me. The story of King Yuvanashva, a just ruler of Vallabhi, is a work of fiction mixed with true incidents taken straight out of Indian mythological stories. The Pregnant King isn't just a weird title to have, because the story that leads to the King's pregnancy follows a series of equally crazy affairs. Ain't Indian mythology filled with the truly crazy ones?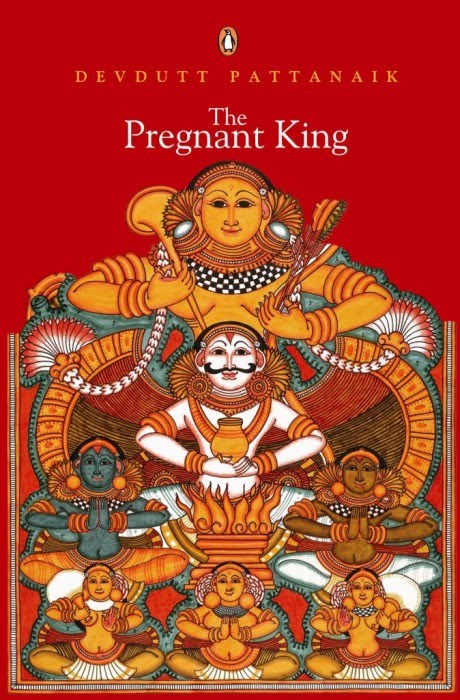 Shilavati (the king's mother) can't let Yuvanashva get coronated as the King and refuses to grant him permission to join the famous battle of Kurukshetra, because the king is unable to sire a worthy heir for his throne despite years of devotion and rituals, the series of events that happen and make the King pregnant instead of his Queens is what half of the story is about. It gets a bit drag at times to read about the failed attempts of conceiving a child since there are no beautifully crafted sentences to take you through the journey and even the editing lacks spine, but Dr Devdutt Patnaik, an Indian physician by academics and an author by profession who's crafted some amazing write-ups around and about Indian Mythology, has taken the difficult task of referring to the lesbian, gay, bi-sexual and the transgender community set in the Hindu mythical era. He has shown us through this book the manner in which these ideologies that seem to haunt mankind till date were dealt with more than 2000 years ago. If you are an orthodox mythology reader, this book might not suit your reading tastes at all, but if fictionalization appeals to you, there's just so much this book has to offer from the first page to the last.
Not once had I imagined how the story will have a twist when the King is actually faced with the question – "What sounds sweeter? – Being called a mother or a father?" The great dilemma that the King faces when he delivers his own child, all the while trying to be the upholder of the Dharma, and in the process of being just to all how he struggles with himself- is a story you need to unravel within this bomb of a book. The plot has a sweet beginning, a slowly moving story but a sharp and a just end to justify all the time you put reading it.