Rarely does a novel come from an Indian author that has the historical theme and is a definite page-turner. Before we even begin with what Anita Nair's Idris: Keeper of the Light has to offer, it has to be shared that if you get past the first few pages, you are going to love reading this book. If you've already read Kunal Basu's The Yellow Emperor's Cure or The Sea of Poppies by Amitav Ghosh, and recommended it to your peers, rest assured that Anita Nair's Idris, the first book in a trilogy series will be a book you won't regret getting your hands on. The book begins with these powerful lines from The Odyssey of Homer –
But now your heart is set: you want to have
the tale of all my trials — and I must add
more tears to those I have already shed.
What should I tell you first? What should be last?
I've had so many griefs at heaven's hands.
Let me begin by telling you my name,
So that you, too, may know it.
Set in the late 1600s, the story of this book revolves around the life of a Somalian trader by the name – Idris Maymoon Samataar Guleed. On the book's cover, this man is described as an eternal traveller who is seeking the measure of earth and man. And when we as readers span the measure of this book, with every chapter, we do get a glimpse into a world set in southern India that just might have existed all these years back. Nair's tale shares the story of Idris and how his fate leads him to meet his 9-year-old son Kandavar, who he did not know existed. Incidentally, Kandavar has the dream of becoming a Chaver – the warrior  whose sole ambition is to assassinate the Zamorin, in a tradition whose beginnings have been lost in time. To keep his son safe and away from the dangerous gang and help him shrug off his ambitions that can be only called suicidal, Idris embarks with his son on a  voyage along the coast of southern India, via Ceylon, Thoothukudi and Paliacatta, that ends up in the diamond mines of Golconda, where he meets Thilothama, a solitary being like himself.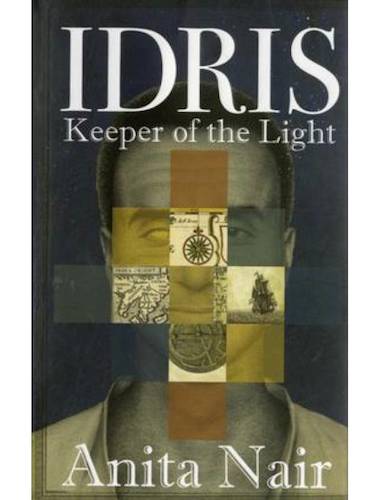 To know if the diamond mines will reward him or not, will he be able to forgo his new-found love and turn his back to go back to his son's land – one has to read this crisp and tightly bound book. The one thing you will definitely stop to admire about this book is the lengths the author has gone to, for digging up facts of the 17th century southern India. Anita Nair's research (especially about astronomy) for this book is not only commendable, but the sole reason why the story remains intriguing and exciting towards the end of the book.
The story is as much about passionate love as it is above family and travel. Everything from Pearl diving at Thoothukkudi, trading at Serendip to the diamond prospecting at Golconda, there's ample amount of excitement to keep the reader hooked to the adventurous tale. The author's bold move in presenting new perspectives leaves the reader perplexed and wanting for more.
There are no wasted lines of dragged up story lines. If you are a fan of trilogy series and love a good book full of mystery and intrigue, Idris: Keeper of the Light is sure to keep you engrossed till the end. We are eagerly waiting for the next book in the series.
Rating: 4/5
You may buy this book from Flipkart here : 

————————————————————————————————————
About The Author-
Anita Nair is the best-selling author of five novels, The Better Man, Ladies Coupé, Mistress, Lessons in Forgetting and Cut Like Wound. Mistress was long listed for the 2008 Orange Prize in the UK. Her books have been translated into thirty languages around the world. Anita lives in Bangalore with her husband and son.