Thirteen books out of one hundred and fifty four made the cut to get long-listed for The Man Booker Prize 2014. For the first time ever, American writers get to compete for the title, and with this move, says Jonathan Taylor, chairman of the Booker Prize Foundation, "the Man Booker Prize is reinforcing its standing as the most important literary award in the English-speaking world."
Following a lengthy discussion, a six-judge panel selected thirteen books by four American authors, six British authors, two Irish authors, and one Australian writer. The winner of this coveted Prize shall be entitled to a £50,000 award.
The list shall be further reduced to six books, and the shortlist shall be announced on September 9th.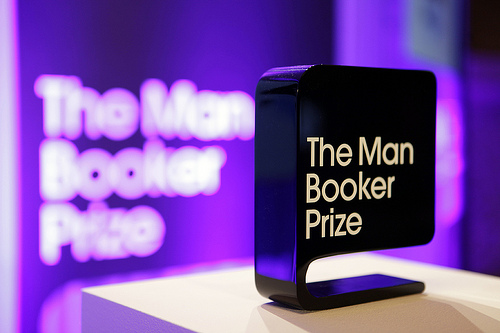 Here are the longlisted authors with their titles (and their synopsis)-
Joshua Ferris For 'To Rise Again At A Decent Hour' (American)
Paul O'Rourke, 40 year-old slightly curmudgeonly dentist, runs a thriving practice in New York. Yet he is discovering he needs more in his life than a steady income and the perfect mochaccino. But what?
As Paul tries to work out the meaning of life, a Facebook page and Twitter account appear in his name. What's at first an outrageous violation of privacy soon becomes something more frightening: the possibility that the online "Paul" might be a better version of the man in the flesh. Who is doing this and will it cost Paul his sanity?
Richard Flanagan For 'The Narrow Road to the Deep North' 
(Australian)
The Narrow Road to the Deep North is a love story unfolding over half a century between a doctor and his uncle's wife.
Taking its title from one of the most famous books in Japanese literature, written by the great haiku poet Basho, Flanagan's novel has as its heart one of the most infamous episodes of Japanese history, the construction of the Thailand-Burma Death Railway in World War II.
In the despair of a Japanese POW camp on the Death Railway, surgeon Dorrigo Evans is haunted by his love affair with his uncle's young wife two years earlier. Struggling to save the men under his command from starvation, from cholera, from beatings, he receives a letter that will change his life forever.
Karen Joy Fowler For 'We Are All Completely Beside Ourselves' (American)
As a child, Rosemary used to talk all the time. So much so that her parents used to tell her to start in the middle if she wanted to tell a story. Now Rosemary has just started college and she barely talks at all. And she definitely doesn't talk about her family. So we're not going to tell you too much either: you'll have to find out for yourself what it is that makes her unhappy family unlike any other. Rosemary is now an only child, but she used to have a sister the same age as her, and an older brother. Both are now gone – vanished from her life. But there's something unique about Rosemary's sister, Fern. So now she's telling her story; a looping narrative that begins towards the end, and then goes back to the beginning. Twice. 
Siri Hustvedt For 'The Blazing World' (American)
Artist Harriet Burden, consumed by fury at the lack of recognition she has received from the New York art establishment, embarks on an experiment: she hides her identity behind three male fronts who exhibit her work as their own. And yet, even after she has unmasked herself, there are those who refuse to believe she is the woman behind the men.
Presented as a collection of texts compiled by a scholar years after Burden's death, the story unfolds through extracts from her notebooks, reviews and articles, as well as testimonies from her children, her lover, a dear friend, and others more distantly connected to her. Each account is different, however, and the mysteries multiply.
Howard Jacobson For 'J' (British)
An award-winning writer and broadcaster, Howard Jacobson was born in Manchester in 1942, brought up in Prestwich and was educated at Stand Grammar School in Whitefield, and Downing College, Cambridge, where he studied under F R Leavis. He lectured for three years at the University of Sydney before returning to teach at Selwyn College, Cambridge.
His books include The Mighty Walzer (1999), winner of the Bollinger Everyman Wodehouse Prize; Kalooki Nights (2006), longlisted for the Man Booker Prize; and The Finkler Question(2010), winner of the Man Booker Prize. His most recent, J, is longlisted for the Man Booker Prize 2014.
Paul Kingsnorth For '

The Wake' (British)

Set in the three years after the Norman invasion of 1066, The Wake tells the story of Buccmaster of Holland, a man from the Lincolnshire Fens who, with a fractured band of guerilla fighters, takes up arms against the invaders. It is a post-apocalyptic story of the brutal shattering of lives, a tale of lost gods and haunted visions, narrated by a man bearing witness to the end of his world.
David Mitchell For '

The Bone Clocks' (British)

One drowsy summer's day in 1984, teenage runaway Holly Sykes encounters a strange woman who offers a small kindness in exchange for 'asylum'.  Decades will pass before Holly understands exactly what sort of asylum the woman was seeking…

The Bone Clocks  follows the twists and turns of Holly's life, from a scarred adolescence in Gravesend to old age on Ireland's Atlantic coast as Europe's oil supply dries up – a life not so far out of the ordinary, yet punctuated by flashes of precognition, visits from people who emerge from thin air and brief lapses in the laws of reality.  For Holly Sykes – daughter, sister, mother, guardian – is also an unwitting player in a murderous feud played out in the shadows and margins of our world, and may prove to be its decisive weapon.
Neel Mukherjee For 'The Lives Of Others' (British)
Calcutta, 1967. Unnoticed by his family, Supratik has become dangerously involved in extremist political activism. Compelled by an idealistic desire to change his life and the world around him, all he leaves behind before disappearing is this note…
The ageing patriarch and matriarch of his family, the Ghoshes, preside over their large household, unaware that beneath the barely ruffled surface of their lives the sands are shifting. More than poisonous rivalries among sisters-in-law, destructive secrets, and the implosion of the family business, this is a family unravelling as the society around it fractures. For this is a moment of turbulence, of inevitable and unstoppable change: the chasm between the generations, and between those who have and those who have not, has never been wider.
Read our review of the book here.
David Nicholls For '

Us' (
British)
Us by David Nicholls tells the story of Douglas Petersen, whose marriage of twenty-one years to Connie is almost over. When Autumn comes around, their son Albie will leave for university. Connie has decided to leave soon after.
But there's still the summer holidays to get through – a Grand Tour of Europe's major cities – and over the course of the journey, Douglas devises a plan to win back the love of his wife and repair his troubled relationship with his son. Forced to understand why his marriage is in tatters, he looks back to the beginning of their relationship and learns once again whom he fell in love with.
Us is the history of a family, recounted over the course of what may well be their final weeks together. It's a comedy about the demands of living together, about parenthood, about the relationship between reason and emotion, art and science, parents and children, middle-age and youth.
Joseph O'Neill For 'The Dog' (Irish/American)
In 2007, a New York attorney bumps into an old college buddy – and accepts his friend's offer of a job in Dubai, as the overseer of an enormous family fortune. Haunted by the collapse of his relationship and hoping for a fresh start, our strange hero begins to suspect that he has exchanged one inferno for another.
The Dog is led by a brilliantly entertaining anti-hero. Imprisoned by his endless powers of reasoning, hemmed in by the ethical demands of globalized life, he is fatefully drawn towards the only logical response to our confounding epoch.
Richard Powers For 'Orfeo' (American)
In Orfeo, Powers tells the story of a man journeying into his past as he desperately flees the present. Seventy-year old avant-garde composer Peter Els opens his front door one evening to find the police on his doorstep. His home microbiology lab – the latest experiment in his lifelong attempt to discover musical patterns in DNA strands – has come to the attention of Homeland Security. Panicked by the raid, Els flees and turns fugitive, waiting for the evidence to clear him and for the alarm to blow over. But alarm turns to national hysteria, as the government promises a panicked nation that the 'Bioterrorist Bach' will be found and brought to trial. As Els feels the noose around him tighten, he embarks on a cross-country trip to visit, one last time, the people he loves, those who shaped his musical journey. Through the help of his ex-wife, his daughter, and his longtime artistic collaborator, Els comes up with a plan to turn his disastrous collision with national security into one last, resonant, calamitous artwork that might reach an audience beyond his wildest dreams.
Ali Smith For 'How to be Both' (British)
How to be Both is a novel all about art's versatility.  Borrowing from painting's fresco technique to make an original literary double-take, it's a fast-moving genre-bending conversation between forms, times, truths and fictions.  There's a renaissance artist of the 1460s.  There's the child of a child of the 1960s.  Two tales of love and injustice twist into a singular yarn where time gets timeless, structural gets playful, knowing gets mysterious, fictional gets real – and all life's givens get given a second chance.
Niall Williams For 'History of the Rain' (Irish)
Ruth Swain, the bedridden daughter of a dead poet, home from school after a collapse, is trying to find her father through stories – and through generations of family history in County Clare. In order to do this Ruthie turns to the three thousand, nine hundred and fifty eight books piled high that her father left behind. His entire, vast library moved to her bedroom which she pledges to work her way through while she's still living.
Source : The Man Booker Prize