Quantum Siege is Mumbai cop Brijesh Singh's debutant thriller. The Prime Minster of India is threatened by Lashkar of a nuclear attack on Mumbai. The city in under siege. Lashkar demands a referendum to be declared on Kashmir within 3 days. The police department appoints a cop Rudra Pratap Singh and Anti-Terrorist Cell to locate the bomb and also the culprits. Indian Prime Minister conveys to Pakistan that if terror activity leads to nuclear threat to India then India would launch a nuclear attack on Pakistan. Rudra Pratap tries to identify and fight with attackers under the stressful environment where the media has spread the news of a nuclear threat to Mumbai. Rudra also has to handle his love interest Sana, his unborn child and wife.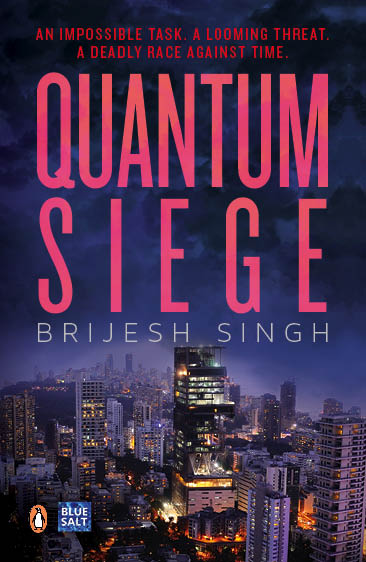 The book brings to light the other side of the cops that is unknown to common people. However, I feel that the book lagged in flow of content. Rudra in an episode narrates to his boss Kant the stories of Zen monks during important discussions in solving the case. The conversation between Rudra and Kant were not structured properly, and has a room for improvement. The chemistry between Sana and Rudra is pretty lukewarm, this could've been spiced up a bit, but not much. The story demanded brick by brick development of the wall, and while the author has put up many a required bricks on, he has painted upon just one side of the wall while other side remains empty.
Overall Rating : 3/5
You may purchase the book from Flipkart here :

About the author –
Brijesh Singh is an IPS Officer working in Mumbai. He holds a master's degree in Psychology, and is extremely passionate about computers. He holds technology patents too. His hobbies include photography, classical music and poetry. He lives with his two daughters and wife Anjali.