We live in a society where women are objectified and nobody even cares, where eave teasing and molesting a female is considered normal ,families console girls and thank their deities for things could have been worse but GOD saved them, witnessing a female getting mistreated is more common than the common cold here . Let's Face it we all know these things occur, we've been angry, we've protested peacefully/violently, supported online campaigns, did everything we could, right? Did it help? No? WHY? Because nobody can change the outlook of this society, no judicial system, no protests, no extreme punishments. If anything can change the present scenario then it is YOU, the beings with XX chromosomes. You have to stop taking crap from the society/husband/illiterate politicians and start acting on you own because the philosophy is simple, you get scared they scare you even more, you start running away, they will run behind you and never stop. But the day you look into the eyes of those imbecile creatures with anger and power and answer them with all your might that day my dear goddesses they will treat you like one.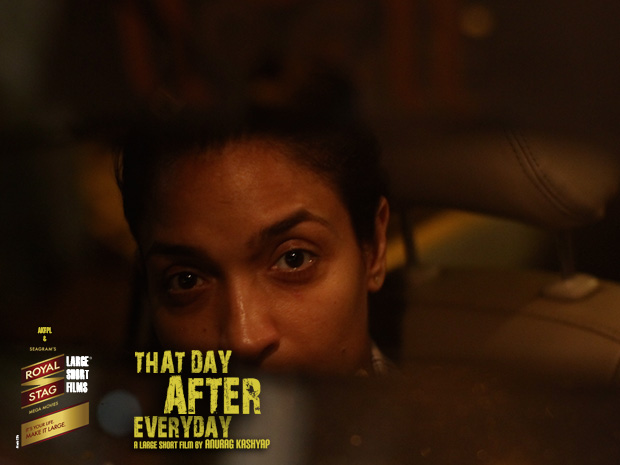 This is the philosophy on which Anurag Kashyaps Short Film "That Day After Everyday" is based upon. The story of 3 common girls from a spineless society who are molested and eave teased every day on the road, in the bus, inside the office in some or the other way. They are objectified, victimized and then pacified through fear. They are asked to run away, avoid and accept the things around them. Until the day they realize, if someone has to fix this broken social order then it has to be them nobody else and That Day after Everyday is when things change in their society.
After Gangs of Wasseypur, Anurag Kashyap cemented his name in the Hall of Fame of Bollywood as one of the most riveting storytellers, this movie just solidified it. Kashyap has captured small nuances of Indian societies with panache and has portrayed the problems of a female in this country flawlessly and honestly. It is the most relevant movies I have seen on the burning issue of eave teasing and molestation and the most hard hitting one. It punches you right on your nose.
Watch this movie and let the Day after Everyday come in reality. All you people who are fed up of trying everything to make this society a better place for our sisters/wives/friends, this movie is a must watch. Stop everything that you are doing right now and watch this movie. It deserves your see. And you my lady, you better watch this movie because the confidence this spreads is far better than the pepper spray you carry in your purse.
Overall Rating: 5/5
Watch 'That Day After Everyday' here.