This is just plain old wine in a new bottle. Going by the cinema-hall occupancy, Vijay has been successful in attracting a huge count of audience to watch his latest, thanks to his superstardom. Thalaiva is more fluff and less stuff, and at times fails to live up to the hype. The sedated pace of the film adds to the repulsion.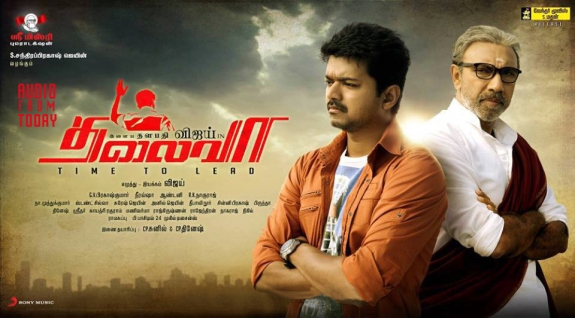 Thalaiva talks about a common man who rises to the stature of a leader. A professional dancer based in Australia, (Vishwa) Vijay is in love with Amala Paul's character and they both plan to embrace the holy matrimony. Vishwa flies off to India, and with his father Anna (Sathyaraj) seeks Amala's hand for marriage. Sathyaraj is Thalaiva, the leader and savior of the social workers in Mumbai, and has several enemies waiting to get the better of him. Few local enemies do, and they murder Sathyaraj. The heat of revenge boils Vijay, and he easily transforms from the jovial lover to the hardcore leader that his father once was. What happens further forms the rest of the story.
Performance wise, all the actors have a decent role to boast of. Vijay does full justice to his performance, and has some great dance moves to show off. It's Amala Paul who takes the cake though, though her role is very limited. Sathyaraj is having a big day! With two major releases in hand- one in Chennai Express, and other in Thalaiva, this man is on a roll. Santhanam contributes to some the best moments in the film, and he beautifully touches up the comic shades of this flick. Rajiv Pillai is another actor who makes a mark. Veteran Nasser has next to nothing in this venture. This film has too much to boast of in terms of performance, but it's the weak story that corrupts the whole impact. A L Vijay's direction is ok, and the twist and turns the plot packs in offers no novelty. With nearly 3 hours to run, you'll feel cheated with the degraded second half. Music is decent.
This is no fast-paced Thuppaki, but is a decent entertainer. You may want to catch up this flick this Eid. Having said that, Thalaiva is just a thalaivali (headache) in case you're not too big on Vijay antics. Period.
Overall Rating: 2.5/5