Shah Rukh Khan has always enjoyed "being" Rahul, the middle class common man, and he admits the importance of a common man many a times in this film as well. But this time his Rahul is more massy, more over the top- he spreads his arms, but to reach to out to a wider audience. This time he shakes hands with the numero uno entertainment-maker of the country so with flying cars and high octane action he has to be more massy. Apart from the masses, Chennai Express has moments which will be lauded by the elderly while the children too will have a hearty giggle. And as the end arrives to make everything fall into proper place, Rahul returns to his common man avatar and fights the villain with feel, having each punch on his heart and giving a punch right from the heart, and this moment is for his fans to be cherished.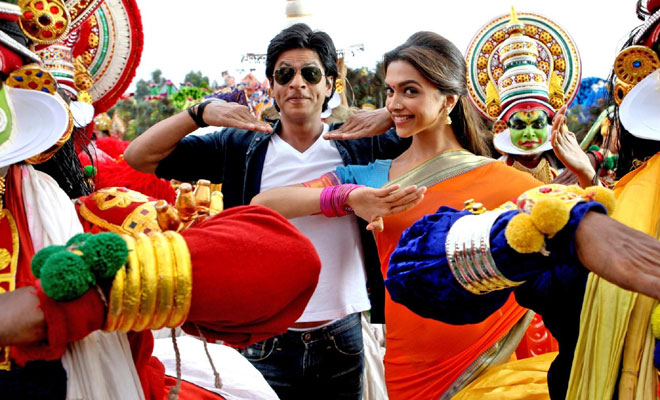 Does it mean that something is out of the place. Yes, here and there. Few bumps in between the ride. It starts well but seems to get lost in between the corny one liners and overused tamil lingo. Sometimes it looks stuck in the jam and unable to move ahead. But the smartass director, shortening the film as much as he could, tries to give an acceleration to the screenplay.
His grandpa's jigar-ka-tukda Rahul (Shah Rukh Khan) sets off on the journey which takes many surprising turns and lands him in the Kombangaon somewhere in the beautiful interiors of the Tamil Nadu, the hometown of our leading lady Meena Lochani (Deepika Padukone). His over the top talkative nature helps him to get trapped in troubles and meanwhile provide smiles to the paying junta. There are few points where you can go loud laughing while elsewhere I found myself giggling in between. Narrative is simple and short, looks  predictable in the first half stands courageously tall from the interval. The acting gets better, the jokes get funnier, the situations get more hilarious, and the film gets more impactful. The second half also makes first half look good and gives film a joyous end.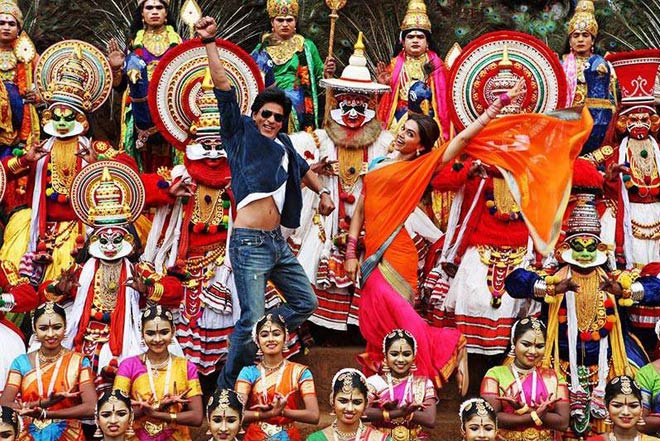 This is an addition to all the masala movies being made in the last couple of years. It may well be an addition to the much coveted 100 cr club too. And looking at the kind of films that have made entry into this club, Chennai Express is certainly honest. As mentioned earlier, as Rahul of Chennai Express, Shah Rukh wants to embrace a larger audience. He does succeed. And providing him such kind of film, the driver of this train Rohit Shetty also succeeds. Rohit is one director who'e extremely clear about his audience. And then there is Deepika Padukone, standing as tall to SRK in every frame (quite literally) she establishes herself as an accomplished heroine. She is lovable, looks ravishing and her accent is funny. Her screen presence in unmatchable. Besides all these, her biggest achievement is not being the show piece in this 'masala' movie. She is one of the reasons to watch Chennai Express. Mukesh Tiwari as the Tamil speaking sikh policeman is decent too.
Beautiful splashing colors, that's what the cinematography of Chennai Express is all about. Song-picturizations, basically Titli and Kashmir Main tu kanyakumari, look delightful to the eyes. Loud background score with each character's entry is quite peculiar and the climax fight scene is worth the taalis and seetis.
Rather to blame and criticize it after having an intellectual watch, dont watch it, or watch it with a mindset. It's a Rohit Shetty movie, and that's what it's all about. And Deepika fans just could not  afford to miss it, while SRK fans of course will have their time.
3/5