In more ways than one, Raja Rani is a tale told and retold many a times on the silver screen. What works in this film's favor is the way this rom-com has been beautified (cinematographer, pat on the back!), but the script has just too much to offer in that limited time frame- and that seriously adds to the drag factor. Imagine Love Aaj Kal being remade within a What Happens In Vegas premise. Raja Rani is ALMOST like that.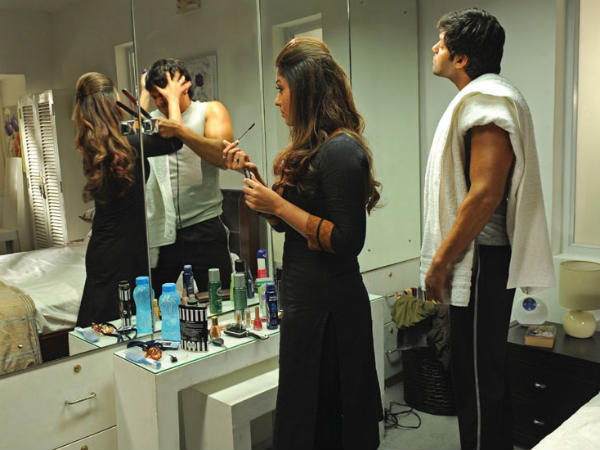 The script has lived an earlier life in Telugu and Kannada, but debutant director Atlee Kumar has remodeled his Tamil version of the story with a few more twisted circumstances. The story is an amalgamation of three love stories, one in present and the other two in flashbacks. The first frame sees John (Arya) and Regina (Nayanthara) exchanging marriage vows at a church when a Ross-"Rachel"-Emily situation arises, and the lady wrongfully takes the name of her ex instead of John's. The two finally get married, but the couple simply can't stand one another, and constantly exchange inpleasantaries. They've had relationships in the past too, relationships that are revealed to us in flashbacks. While Regina's ex-relationship with Surya (Jai) eats the first half of the film, post-interval it's John's romance with Keerthana (Nazriya Nazim) that tests your patience. To cherry-top the cake, the makers have even included an airport climax. How original. The husband-wife conflicts do get resolved by the end, and life goes on.
The start is extremely promising, and the Jay-Nayanthara chemistry is very good, but somehow the initial magic fails to sustain during the second half (Arya and Santhanam try their best to keep the laughs going, but that's just not enough). Also, the over the top theatrics shown with all those health-ails dull the spirit of the film. The actors have done a good job. Arya channels his reluctance, vulnerability and insecurity with utmost conviction, while Nayanthara totally compliments him in every frame. Santhanam epicenters a few laughs, but that's just about it. Nazriya wins us all over with her expressiveness, and is an actress to watch out for. Sathyaraj as the uber-cool dad rocks.

Atlee's Raja Rani maintains healthy urban sensitivity throughout, but a healthier script and narrative would've helped a lot.
Overall rating: 2.5/5