Cloud may be the future, but there's still a lot to carry on the land. Japanese electronics giant Sony has announced their first USB flash drive for the smartphone segment. The newly announced two-in-one flash drive features both a microUSB port and a standard USB port, and directly plugs into a smartphone, tablet or a desktop. Designed for Android's OTG connectivity (OTG or On The Go function lets a handset/tablet act as a host when connected to USB peripherals), which is a default feature in phones running Android 4.0 ICS and above, the flash drives shall operate sans any additional drivers or apps. However, Sony from its side shall be offering File Manager app as an element of the deal. Built of metal, the devices also feature an integrated dust cap. The drives could be availed in three cap colors, and in capacities of 8GB, 16GB and 32GB. The standard USB port is limited to USB 2.0, and that's like, sad. Sony Electronics Director of Consumer Media Marketing Viviano Cantu said- ""Consumers want to let a friend see the photo they just took or share a video easily with as few steps as possible. These new drives combine convenience, peace of mind and performance and are perfect for mobile multi-tasking."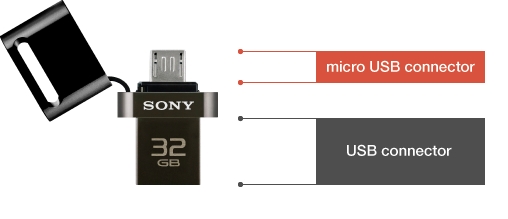 If you're jumpingly excited with this possibility, save aside till January 2014 $19.99, $29.99 or $62.99, and get yourself one of the respective flash drives. Now these flash drives function exactly like a USB thumbstick, but a bonus here is that they offer an extra socket. So you know, you might want to consider (twice) before shelling out that much money on the drives. If I'm not wrong, buying a flash drive and OTG cable separately shall be a lot more cheaper. Not jumping much now, are we?
Let us know in comments below what you think is superior/different about Sony two-in-one flash drive as compared to any other flash drive.