A group of Samsung engineers/volunteers today unveiled EYECAN+, second-generation of the company's EYECAN eye-tracking technology, which allows people with disabilities to to perform the elementary tasks using a computer – such as compose/edit documents, browse the internet – all via just simple eye movements. EYECAN+ is a first of its kind as the user is not required to wear any device or glasses. Rather, the EYECAN+ is a single-unit portable box that when placed below the monitor works wirelessly by calibrating with the user's eye. Samsung has made clear that it shall not commercialize EYECAN+, but will manufacture just limited units to be donated to charity organisations. The company also stated that the technology and design of EYECAN+ shall be made opensource and accessible to companies/organisations that wish to commercialize the same.
EYECAN+ requires the user to be in the range of 60 – 70 centimeters from the screen, no matter what the user's position. First-timers are needed to calibrate EYECAN+, and later the technology shall remeber the user's eye characteristics. Sensitivity could be adjusted during calibration and during actual use. Once the calibration is complete, the EYECAN+ presents its user with multiple options/commands that can be clicked with a blink and highlighted with a look.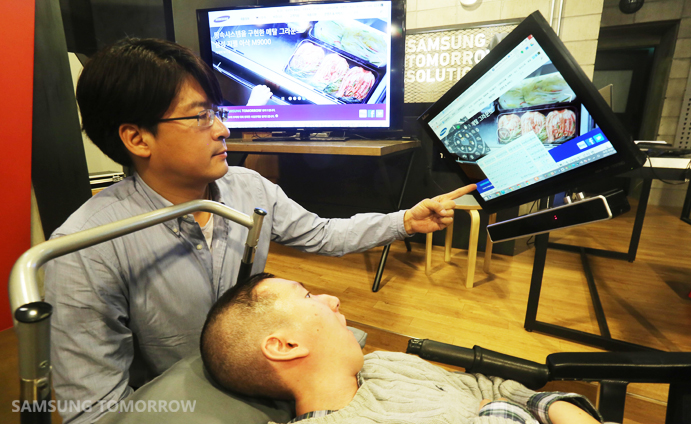 The technology was demonstrated today, where Hyung-Jin Shin, a quadriplegic student with Yonsei University, who has also been assisting with this project, composed a message using EYECAN+:
 Nice to meet you, everyone. I am happy that the eye mouse is developed in Korea. The eye mouse isn't just an IT device, but arms and legs for a patient with advanced disease. I hope that these kind of research will be continued.
The above message took Shin approximately 20 minutes to compose.
Once technology like EYECAN+ becomes mainstream, it will help many disabled people quit their dependency on others for even the simplest task as writing and sending an email. We hope some organisation furthers this project and commercially makes available an affordable end-product that'll add value to so many lives.
Via : Samsung Tomorrow