Mobile giant Nokia has floated Lumia 525 and Lumia 1320 in India. Nokia Lumia 525 that has been made available from today comes with a price tag of Rs.10,399 while Lumia 1320 that goes on sale from January 14 has been priced Rs.23,999. As per Viral Oza, Director of Marketing at Nokia India these additions in the form of 525 and 1320 to the company's Windows phone portfolio will bring smartphone experience at more affordable prices.The colorful phones come in yellow, red, white and black skins.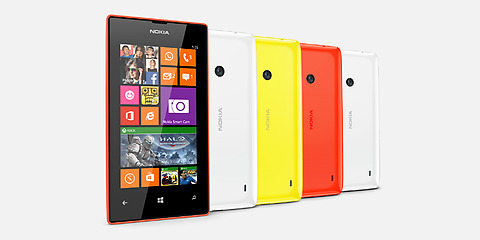 Nokia Lumia 525 is powered by a 1GHz Qualcomm Snapdragon S4 dual-core processor coupled with 1GB of RAM. It has 8GB of inbuilt memory flexible enough to be expanded up to 64GB with free cloud storage up to 7GB. The smartphone runs on Windows Phone 8 with Lumia Black. This Lumia phone sports a 4-inch WVGA IPS LCD screen with 235ppi pixel density.
The Battery that Lumia 525 packs has 1430mAh capacity and can sustain 10.6 hours of 3G talk time with up to 14 days of standby time. The camera on the rear side is a 5MP shooter that has the ability to auto focus but with no LED flash at its disposal. Camera applications are Nokia Smart Camera, Cinemagraph, PhotoBeamer and Panorama. Videos can be recorded in 720p. Connectivity options are 3G, Wi-Fi, Bluetooth 4.0 and USB 2.0.
The Big and Beautiful Nokia Lumia 1320 is powered by a dual-core Qualcomm Snapdragon S4 processor clocked at 1.7GHz. It packs 1GB of RAM and can accommodate 8GB of apps and data onboard. Memory can be expanded externally via a microSD card up to 64GB to squeeze in more apps and data. There's also 7GB of free cloud storage. This Lumia device runs on Windows Phone 8 with Lumia Black. A 3400mAh battery fuels the smartphone. Maximum standby time is 28 days with 21 hours of 3G talk time and 9 hours of video playback.
The display Lumia 1320 holds is a 6-inch IPS ClearBlack with Corning Gorilla Glass 3 protection. The display has a resolution of 1280×720 pixels with 245ppi pixel density. The primary camera is 5MP with auto focus and LED flash support while the secondary camera is a VGA snapper. It has pre-loaded camera apps like Nokia Camera & Nokia Storyteller and photo editing tools like Creative studio and Cinemagraph. Videos can be captured in 1080p. Connectivity options include Wi-Fi, Bluetooth 4.0, USB 2.0 and 3G.
Nokia Lumia 525 Specifications-
–          4-Inch WVGA IPS LCD Screen (235ppi pixel density) –          1GHz Qualcomm Snapdragon S4 Dual-Core Processor –          1GB of RAM –          Inbuilt Memory: 8GB –          Expandable up to 64GB –          Windows Phone 8 with Lumia Black –          1430mAh battery –          5MP camera –          3G, Wi-Fi, Bluetooth 4.0 and USB 2.0  
Nokia Lumia 1320 Specifications-
–          6-Inch IPS ClearBlack Screen (245ppi pixel density) –          Corning Gorilla Glass 3 Protection –          1.7GHz Qualcomm Snapdragon S4 Dual-Core Processor –          1GB of RAM –          Inbuilt Memory: 8GB –          Expandable up to 64GB –          Windows Phone 8 with Lumia Black –          3400mAh battery –          Primary Camera: 5MP camera –          Secondary Camera: VGA –          3G, Wi-Fi, Bluetooth 4.0 and USB 2.0