Cast: Randeep Hooda, Sara Loren, Aditi Rao Hydari Directed by: Vishesh Bhatt Genre: Erotic thriller (U/A) Duration: 2 hrs [highlight]Overall rating: 3/5[/highlight][divider]   RED IS FOR ROSES, ROSES STAND FOR LOVE. THAT ANCIENT LORES SUGGEST THOUGH, IT ALSO STANDS FOR GORE.
The Murder series is back- this time just to make the audience shriek in thrill (or fear) and make their hair rise! Vishesh Bhatt has done a commendable job of cooking together the ingredients of love, lust, vengeance, revenge and spook beautifully.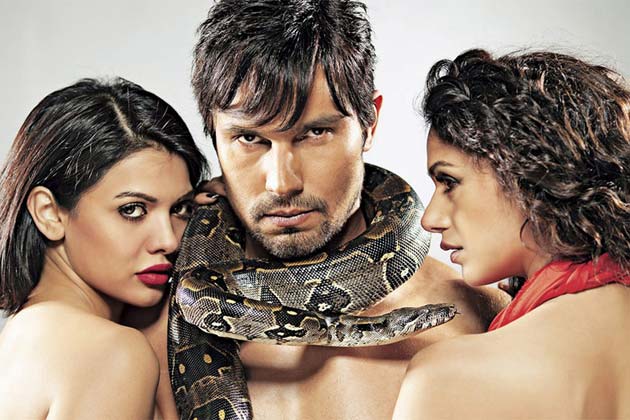 The plot revolves around the sudden and mysterious disappearance of Roshni (Aditi Rao Hydari), the ex-flame of a passionate wildlife and lifestyle photographer Vikram, who tastefully clicks away animals, wilderness and pretty damsels! Letting go of his past, he is quick enough to fall for an attractive waitress Nisha, who is heads over heels in love with him. They graduate from "Simply dating" and she ends up moving in with him. All is rosy in the beginning and eventually it is there in his palatial yet eerie mansion where she senses a dangerous mystery looming! With passion follow a series of bizarre events such as banging of doors, clanging of windows, flickering of lights and all sorts of cliched things indicating a presence of a supernatural phenomena taking place! Is it Roshni seeking revenge? Where is she? What happened to her? Why did she disappear? The questions linger on till the second half is half its way.
The movie with its steamy scenes and scary moments does manage to grab many eyeballs and also it does display lacunae like Vikram's not being under the police's scan 24×7 despite being the prime suspect in her vanishing. Also there are many cliched moments which gives the "Been there, seen that" kind of feeling. The cinematography is good and the music is slow yet melodious. Aditi as Roshni is cute and gets into the skin of the character well while Sara bears the similar deadpan expression throughout but is quite an eye – candy! Randeep is superb as a photographer to a confused ex to a passionate lover! In all, a fantabulous movie to watch this weekend in this season of LOVE.