Cast: Jessica Chastain, Jason Clarke, Jennifer Ehle, James Gandolfini Directed By: Kathryn Bigelow [highlight]Overall Rating: 4/5[/highlight][divider]
With drum-thumping agitation building up in the documentation depicting the decade long hunt of the world's most observed terrorist, one does get unnerved witnessing the various torturous events which pop up time and again in the almost 3-hour long skillfully made movie. Kathryn Bigelow's Zero Dark Thirty is almost like a documentary that narrates connected events that finally leads the CIA team to the elusive Osama's hide in Abbottabad.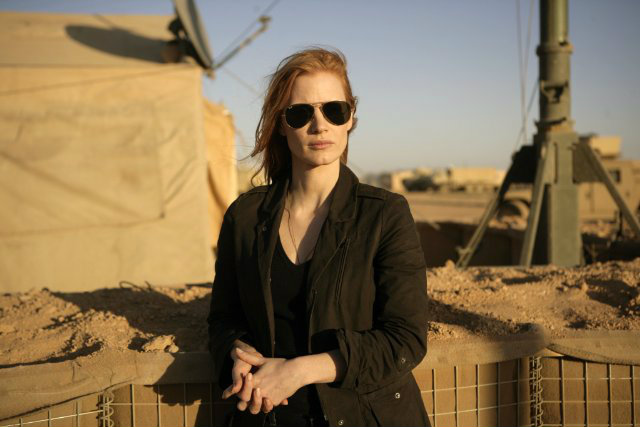 The film begins with a blank screen and an audio featuring people's last stated words at the World Trade Center on the cursed day. Enters Maya (Jessica Chastain), who's recruited straight off the University into the CIA, and is asked to interrogate some detainees- a job she reluctantly agrees to. While on mission, she develops a soft corner for Dan- a fellow agent who later quits not being able to handle any more of  the torturous sessions- while Maya continues to retain her focus on tracking down Osama, while parallely trying to make a dent in this man's world, and make-a-dent she does, as she puts herself as the "motherfucker who discovered the place" before a bad-mouthed CIA bigshot. But it's the final scene that takes the cake, along with your breath, with enough thrill packed in to last a lifetime.
There are just not enough award categories to nominate Jessica Chastain into- she is indeed that AWESOME. Her certain statement after first rounding off Osama's probable location- "I wanted to drop a bomb on it"- just amplifies the brutality piled within her. Also, Kathryn's direction is praiseworthy, especially in those last hour scenes at Abbottabad that came out exceptionally well.
This movie deserves to be on your must-watch list, not only for the performances, but also for the CIA's account of what went behind capturing and killing Bin Laden. Highly recommended.
Section-wise rating below: