Cast: Satya Bhabha, Darsheel Safay, Ronit Roy, Shriya Saran, Seema Biswas, Charles Dance, Rahul Bose Directed By: Deepa Mehta [highlight]Overall Rating: 3/5[/highlight][divider]
Deepa Mehta scores her first goal with a traditional sitar-strung melody commencing her cinematic adaptation of Salman Rushdie's Midnight's Children- a movie which griefs and vents anger for what India is, and what it shall remain to be. But that's pretty much it. With Rushdie himself at the helm of narration, we did expect the passionate pages from his book to father the silver-screen version, but the book's subversive magic is just not met.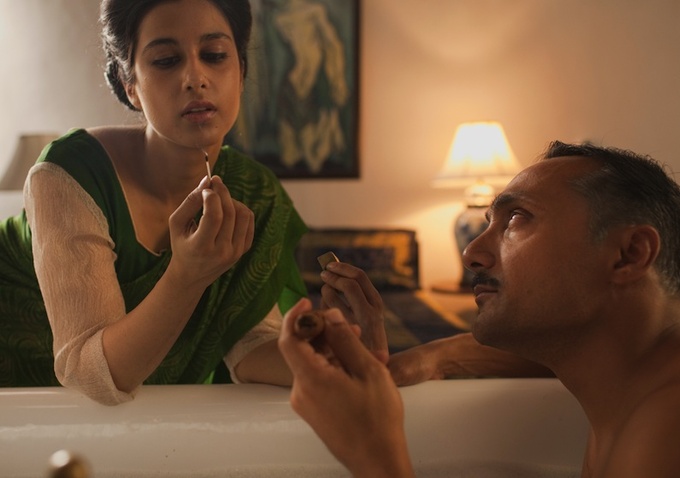 Covering 60 years of a turbulent personality and an equally turbulent nation, the plot basically revolves around Saleem Sinai as he flashes back into past narrating the sequences that happened prior to his arrival in this world with an incessantly leaky nose- on the opportune midnight of 15th August 1947. Like him exist others, and all these "midnight's children" are all divinely gifted by some or the other superpower, and Saleem intends to channelize their collective power for the better of the nation. But unlike Ang Lee's Life of Pi, where the fantasy elements were creatively heightened to deliver a sense of awe and mystery alike, Deepa Mehta's venture is bereft of any such marvel. And this strikes as a shock more than surprise for a reader who must've imagined his very own post-colonial India webbed in its sheer fabled beauty and inanity, and who definitely would have been devastated to witness this bland movie that totally lacks that inked inspiration. And while the dull frames worked well for Slumdog Millionaire, a dash of colors here could have uplifted the imagery by loads.
Viewers are first requested to leaf through the book before they catch the film, for the spell casted upon by the author tends to stick on for a longer time and isn't remotely ridiculous — but the same can not be said for the film.