Cast: Neil Nitin Mukesh, Vikram, Vinay Virmani, Tabu, Lara Dutta, Isha Sharvani, Monica Dogra Directed By: Bejoy Nambiar [highlight]Overall Rating: 3/5[/highlight][divider]
A 30 year old David of London (1975), a 19 year old david of Mumbai (1999), and a 40 year old David of Goa (2010)- all plunge into a desperate game of love, lust, vengeance, power and identity crisis thus giving their lives an iconic turn. All in a span of 30 days, in their own respective eras.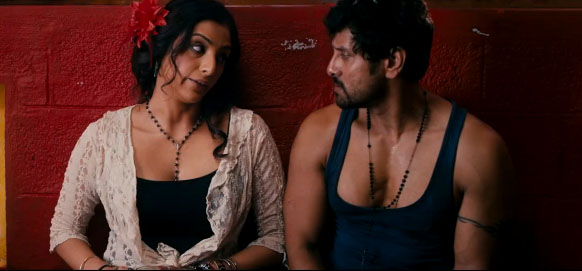 Mention Bejoy Nambiar, and Shaitan is the first thing that bubbles up through your mind. This unconventional filmmaker has now come up with a unique story of life of three namesakes in different eras in different places and yet whose lives are passionately intertwined. The story revolves around a 30 year old David in London (Neil Nitin Mukesh), a 19 year old yet another David in Mumbai (Vinay Virmani) and a 40 year old David of Goa (Vikram) who are the protagonists in their own beat. David (Neil Nitin Mukesh) is raised by a dreadful Mafia Ghani who treats him as his own son (which he otherwise doesn't to his biological son!!). David too admires his guardian angel until he comes to know of a bitter secret about this man and leaves for a quest for the truth and eventually he gets attracted to a girl (Monica Dogra). On the other hand, a 19 year old David (Vinay) is a happy-go-lucky teenager who aspires to become a great musician until his beloved family gets embroiled into a political issue which leads him to lose his faith. There is another David in Goa who has a drinking prob and doesn't mind hitting even a woman! He lives in a small hamlet making his ends meet by selling fish. This fishmonger falls heads over heels in love with deaf and dumb Roma (Isha Sharvani), who in turn marries his best buddy Peter. Life gets complicated for all the three and a series of events change their lives.
Neil Nitin Mukesh is perfect as David. He is calm, suave and yet has appeal. Vikram is funny yet dangerous as a drunkard and gets into the character's shoes well. On the other hand, Vinay plays his role to utmost perfection as a pious teen! A talented actress like Tabu is wasted playing a "love guru" to Vikram and Isha Sharvani is all cute fluff portraying her deaf-dumb character with elan! Monica Dogra as Neil Nitin Mukesh's love interest is a perfect choice and indeed an eye-Candy! Lare Dutta hasn't got much and is glued to a guitar! The script lacks consistency and Bejoy sometimes loses the track.. The cinematography is good and as for the music tracks, Dama Dam Mast Kalandar steals the show. It features yesteryear actress Sarika. As for Bejoy's work, its decent but not commendable, except for the color-play differentiating an era from the other! Surely worth a watch.
Section-wise rating below: