You might have wondered if 'password123' or 'myname@abc' are good enough for online security, and the answer always slapped o your face was a NO. Complex passwords do the needful, but they're too tough to remember, aye? To aid in developing a fool-proof and secure password, Microsoft Research has developed a tool called Telepathwords that prompts a guess of the next character as you type your password (if you're still ignorant enough to use a proper English word as a password, that is). The more wins Telepathwords registers while guessing the next alphabet, the more prone is your online email/bank account to cyber attacks, if at all you continue with that password. Telepathwords was developed by security researcher Stuart Schechter along with four other members.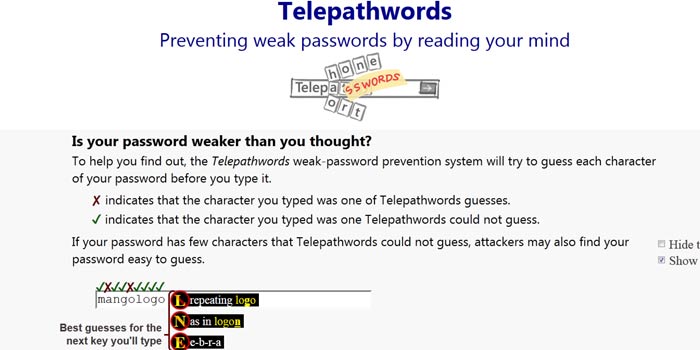 Microsoft's tool, released Thursday, includes commonly assigned passwords and phrases, and was tested by hundreds of Microsoft employees to collect data over how people come up with passwords, and to develop the tool so as to detect lazy password-choosing methods that hackers shall make hay of. It's not just giving you a strength signal, as most of the password-systems at present do, but shows the user step-by-step ow good or bad his/her password is.
The tool is extremely simple to use- type any alphabet in the box and Telepathwords shall put three guesses of what the upcoming character shall be. Once you've typed in the letter, there's a series of tick and cross marks above it, pointing which characters the tool could guess and which it missed. A personal try revealed that my password-choice was very poor, and there's a great danger I'm exposing my online accounts to. Well, the case has been handled now.
Telepathwords collects the typed characters and sends them to a Microsoft Research server to prompt guesses of the next to-type character. It even tracks how a user moves his mouse, and how many times did he delete/add a new character to his password. The data collected by the server is encrypted within your web browser and shall be used in future for related research.