Xiaomi has been all over the gadget industry with it's product range that hits your pocket at the right spot. It's product range has always been  affordable but the products have also been great at doing their job. Last year's Mi Band hit the market with such an affordable price tag (Rs. 999) that half of the people just gave it a go for its price. Xiaomi's  first attempt at the activity tracker came with a lot of compromises, especially the absence of a display, Mi Band 2 succeeded the first variant recently and also has the much desired display. So has Xiaomi finally made the perfect affordable fitness band ? Read on .
Design:
The Mi band 2 like the previous generation comprises of two components – a band and a capsule. Aside from the strap, the Mi Band 2 doesn't really look anything like the original Mi Band. It has a rubber finish silicon band, its soft and classy this time unlike the previous generation which had more of a plastic feel to it. I really love the band this time; it's too damn comfortable and secure to wear all day. I've been wearing it for past 15 days and have not experienced any issues yet. The band is only available in one size and can be adjusted to 9 different ticks as per your wrist size,  I wear it at tick 5( Just for your reference ).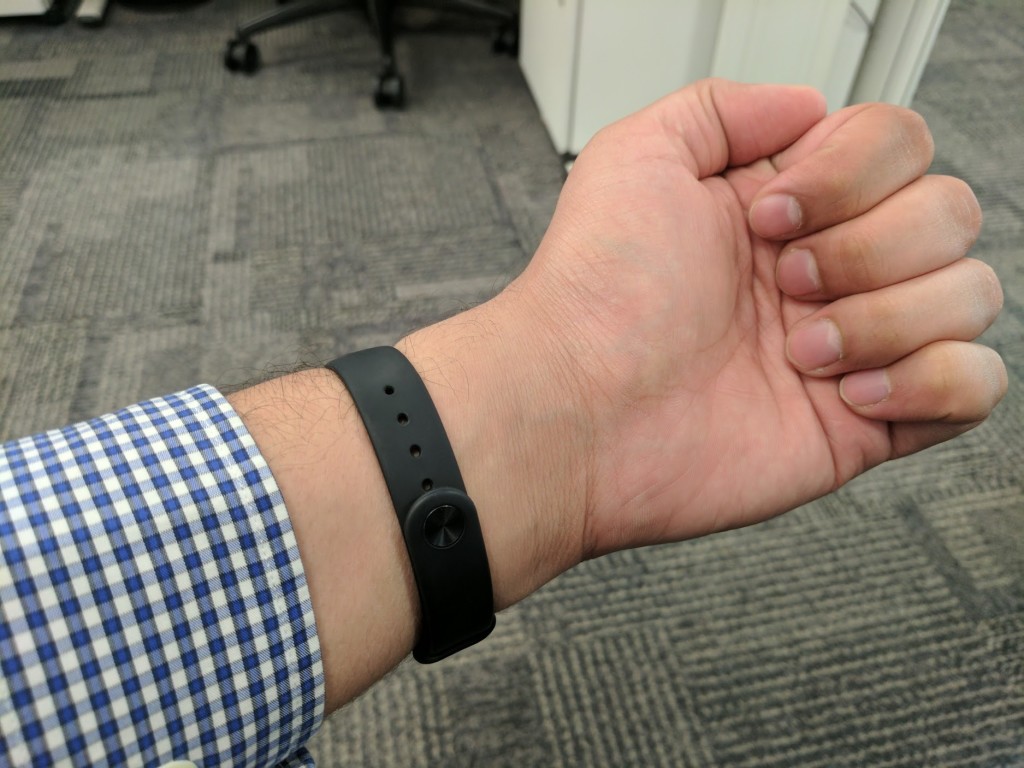 The Xiaomi Mi Band 2's capsule fits tight into the band, so there are no chances of it falling out at all. The capsule has an O.L.E.D display ingrained in which is a circular touch button, which lets you move through your stats such as number of steps you've taken, distance covered , calories burned,  the time of the day etc. The heart rate sensor is on the back side of the capsule and  protrudes a bit onto the skin, you might feel slight discomfort the first few days but after a while you'll be fine.
The touch button on the band sometimes hangs when you want to switch information on the band. It happens at least once a day but if  you keep tapping and it'll start working in about few seconds. I think it's a firmware bug which Mi needs to address soon.
Lets look at some key features of the Mi Band –
Steps/Distance Tracking :
 The Mi Band 2 is quite accurate in tracking the steps taken during a day . Its improved pedometer algorithm filters out the unnecessary movements for accurate measurement. We validated this feature of the band by comparing it with apple health on the Apple Ipod and the Mi band did a good job; There was variation of about +150 steps per 10,000 steps.
The Mi band also captures the distance traveled  during the day on foot (a rare activity in today's world), your steps count to your distance. We tested this on a treadmill and it was quite accurate, there was a variation of +100 metres for the 5 kms that I ran on the treadmill, such slight deviations are expected and are acceptable.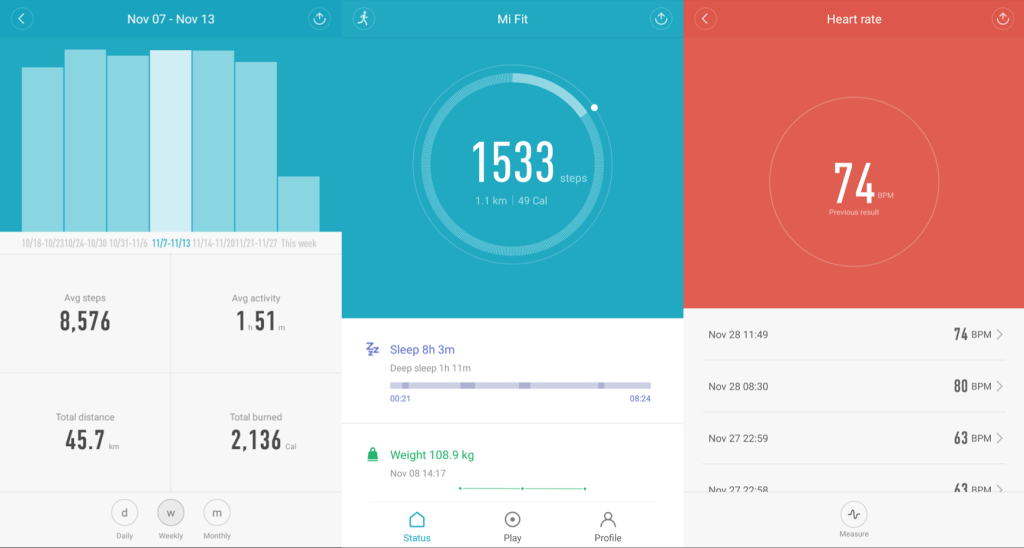 Automatic Sleep Tracking :
A really cool feature which I love to use every day,  it triggers automatically when you doze off and works as expected. It tracks when you fell asleep, when you woke up, total duration of sleep, total duration of deep sleep, total duration of light sleep and the duration you were for awake in between your sleep. All the data gets synced to the Mi Fit application on your phone, once you pair the band, that's where you can view all this.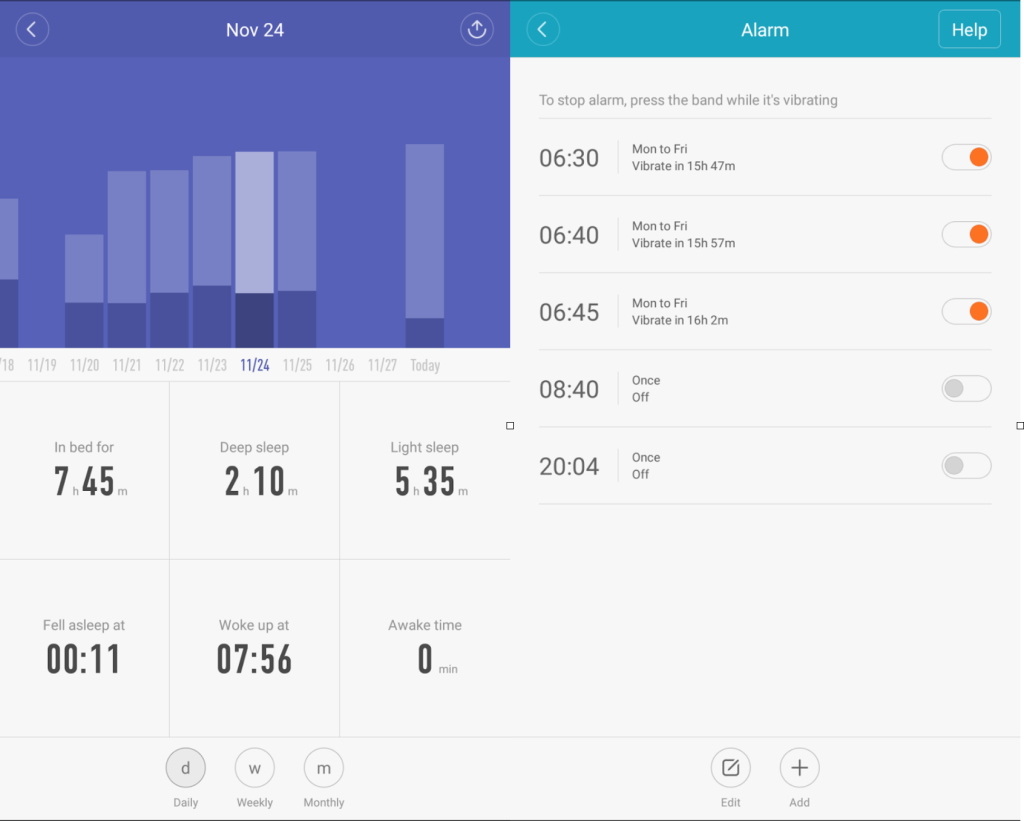 Once you pair your Mi band 2 with the Mi FIT app (Available for Android and iOS devices) on your device, you can manage these notifications through the app. The band vibrates for these notifications if you turn them on through the app. Mind you, your phone should be paired via Bluetooth for you to receive these notifications on your band.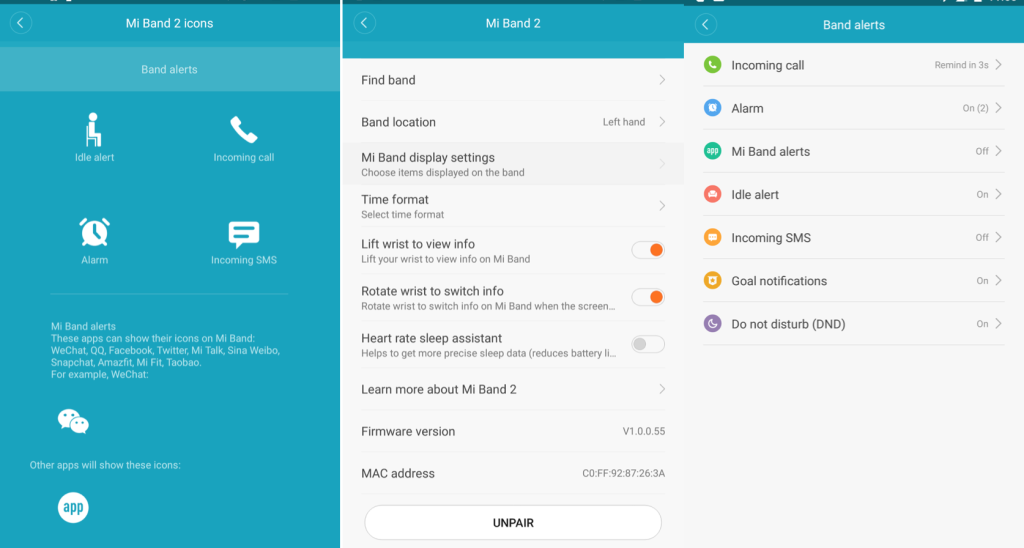 You can enable the following notifications from the Mi FIT app:
Incoming Calls – You can set the delay for this notification, for eg. For  incoming calls on your device, you can set after how many seconds should the band vibrate. The band only shows a calling icon and not the caller's name, so that's something I wish was supported by the band, it would have come in handy while driving or in a meeting.
SMS – SMS notifications can be triggered on the band when it arrives on your device, this notification also only  shows that a SMS has arrived on your device with a small icon but does not show any further information.
Any 5 apps on your device – You can add the vibration notification on the band for 5 more apps but the app icon isn't supported for any app except 'WhatsApp'. For 'WhatsApp', the band displays the 'WhatsApp' logo on the band for all other apps it just displays a default icon "app" with a vibration. Atmost you can add 5 apps for notification on the band.
Daily Goal Achieved Notification :
The band vibrates and shows a small animation when you achieve your daily steps goal. You can set your daily goal for steps in the Mi FIT app. As per W.H.O ( World Health Organization ) an average person should at least walk 8000 steps in a day.
 You can turn this on through the Mi FIT app, so what this feature does is, if you've been inactive for an hour, the band vibrates and shows a small animation in which it asks you to get up from your goddamn chair and walk. It's a nice feature if you have a desk job or if you are a lazy person, it actually motivates you to get up to move around, as they say sitting is the new smoking.
You can set the start and stop time of this feature from the app when you turn it on, so it'll only work during that period. You can also turn on the D.N.D ( do not disturb ) time period within the active period of this feature which is by default 1400 -1600 hrs and cannot be changed. I am assuming this DND feature was added for the siesta (Afternoon Nap) time in tropical regions.
 This is a great feature to have, I love the noiseless alarm, it's just great.
No noisy bells, rock music to wake you up from your sleep; a simple vibration on your band wakes you up and it's better than the sound, at least for me. The alarm can be set from the app and done, it's that simple. The Band on your wrist vibrates at the desired alarm time set from the app and you are up. First few days it feels different but once you are used to it, you'll love it.
The Mi FIT app is available on android and iOS devices. This app is simple and smooth to use. It has been divided into 3 tabs – Status, Play, Profile. Let's see what these tabs are for.
Status Tab: This tab is first tab you land on when you open the app. It displays the Steps, Sleep, HR, Weight and Goal Streak Graph.
Play Tab : This tab in next in line, lets you set you call alerts, App alerts, alarm, App notifications, inactivity alert etc.
Profile: This tab consists of your profile information with stats like Average Steps, Total Km, No. of time you achieved your step goal, Mi band details like find your band, set band location(left/right hand),display settings(you can change what you want to see on your band from the options) and many other options to set. It also shows the remaining battery in your band and when did you last charge.
Check out the Screen Shots for a better visual understanding.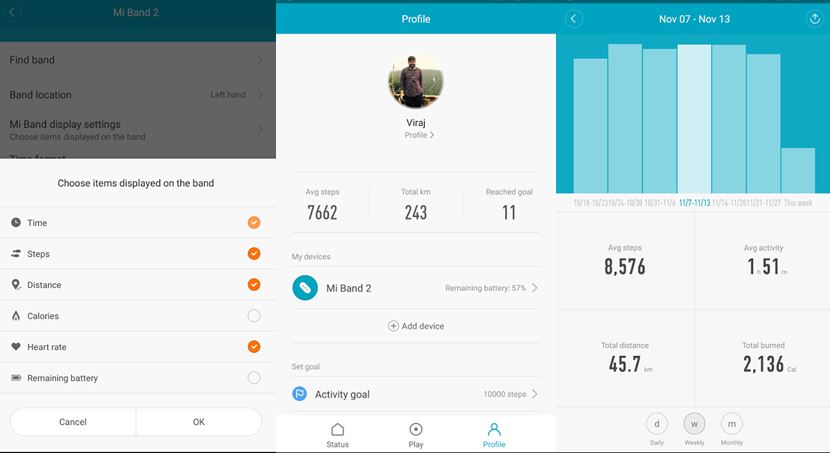 H.R is an important part of your heath regime, you need to keep track of it while you exercise or even during the day. The concept of resting heart rate and target heart is slowly becoming an integral part of tracking your heart. H.R on MI Band 2 is an additional feature at such a low price tag, it's obviously a plus. This feature works just fine on the band, I won't say it's one of the best you can have but it is one of the best at this price. One thing the user needs to make sure while measuring heart rate is to stay as still as possible, the user manual also states this explicitly.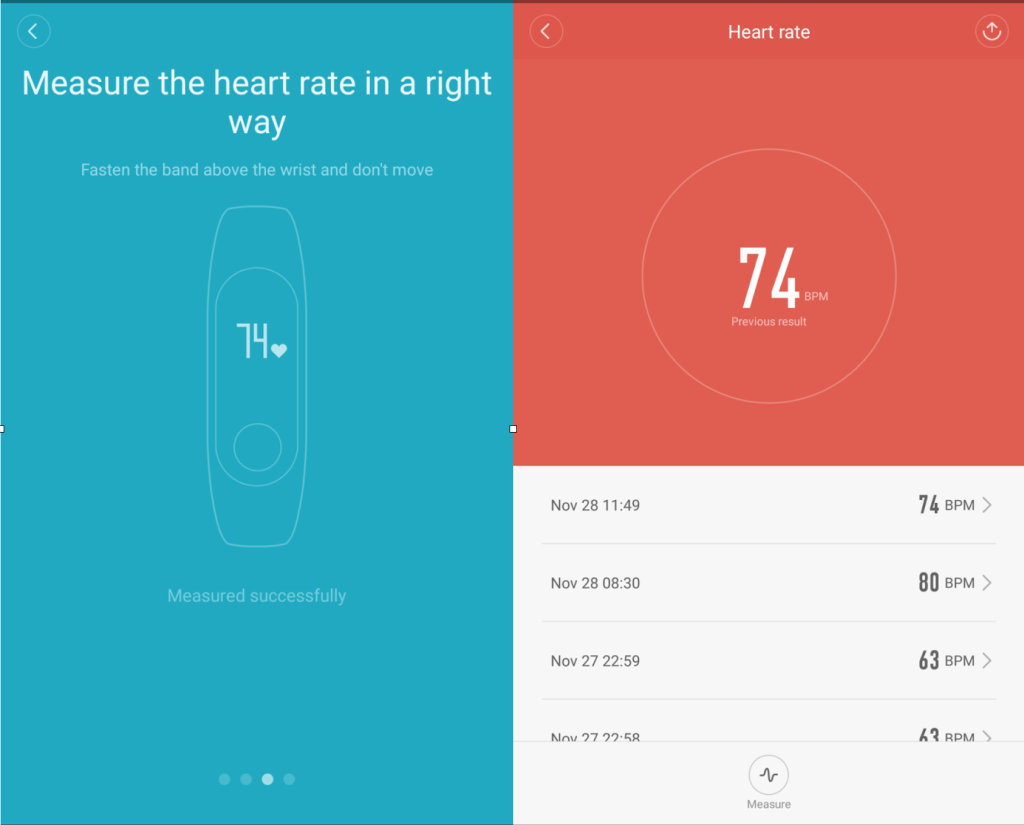 I happened to test this H.R feature against the treadmill H.R in my Gym, I'll say it's accurate by about 5 beats plus or minus (assuming the treadmill HR is accurate, it's a Life Fitness treadmill, I assume it's good), also assuming you stay still which is like pausing your workout and then checking HR. Its cumbersome but that's all you got.
There is latest mode called the Run mode which came in an update to the firmware of the band and also to the Mi Fit app. I'll talk about it in a while.
This is the latest feature added to the MI Fit app and to the MI Band 2 Firmware. This was much required as this band had the potential to be used as a tracker for running. It doesn't have built in GPS but hey what do you expect in a 2000 bucks band. It uses the phone's GPS for tracking your run.
This mode is a blessing and feels like the guys at Xiaomi are working to get better features to the user and utilize the bands full potential. The Run Mode basically tracks your run and you have to manually turn it on from the app before your run and making sure your band is connected to your phone or iPod when you go out for a run(basically you need to carry you device with you).
While running one can can set the maximum heart rate also known as your target heart rate for the exercise and the band will vibrate if one crosses that target HR(mind you, the band should be tightly fastened to your wrist for this to work as desired). Also, you can set a pace alert so the band vibrates if you run slower than the set pace.
These features need software improvements but they are really good and I love to use them.
The MI Band 2 comes with just 70mAh of battery, sounds less ?
Oh ! don't go by the number, the battery lasts for about 16-17 days with one charge, isn't that magical ? . Charging time is great too, it takes just under 2 hours to charge the Mi Band 2 to full capacity. The USB cable that comes with the box is unique and is the only cable which can charge the devise. So, make sure you carry it if you are planning to travel.
You can different colored bands from Amazon or Mi shopping website at a basic price of just Rs. 200.
 There are a few other features which I thought I should mention:
One of them is the 'Lift Wrist' to view information on Mi Band
Other is the rotate wrist to switch info. These features work great on the band without any hiccup.
These features enable the user to check any information on the band without even touching the band.
Xiaomi Mi Band 2 can be purchased at the Mi shopping website or Amazon at a whooping price of just Rs. 1,999 /- . It comes by default in black color (the band and capsule) but you can purchase other bands separately.