Axis Bank recently announced launch of 'Thought Factory', an innovation lab facility that is aimed to constantly innovate and introduce headway solutions for  start-up community in banking sector. The 'Thought factory' is located in country's IT hub, Bengaluru, and  houses an Accelerator, In-house incubation team and co-working space called Social powered by AWS.
The 'Thought Factory' mainly work in three zones and they are Accelerator and Incubator zone, Innovation Lab and the Social.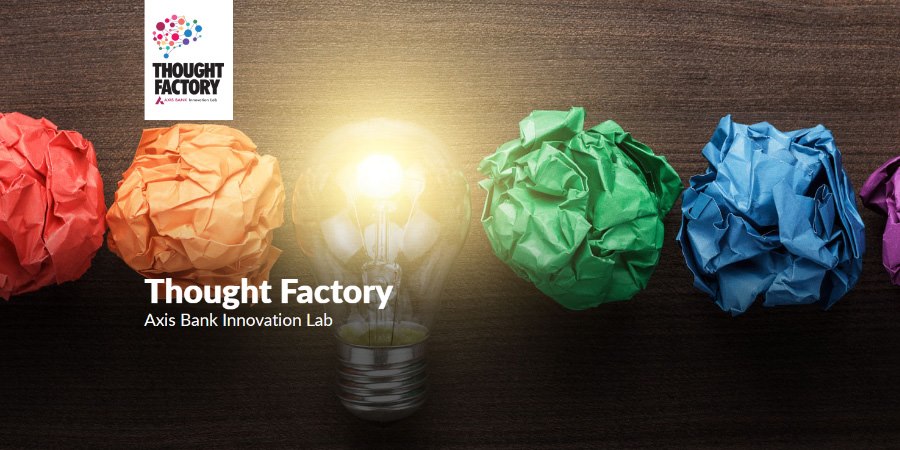 In this programme Axis bank will closely work with the identified Start-ups. These hand picked startups will be taken through a mentorship programme which involves fine-tuning, validating and scaling their business. The programme is structured for 90 days and at the end of the programme, an investors day will be organised for funding of the identified start-ups.
In-House Incubator – Intrapreneurial employees of Axis Bank which will work like start-ups to build MVP's for the bank.
Startup Hub: Amazon has collaborated with Axis Bank to help the startups which is quite  similar to AWS Pop-up Lofts.
In fact Axis Bank has also launched a special programme called "Hack for Hire", which is a Hackathon to be conducted across the country to identify talent through hackathons for the innovation team at the Thought Factory.
Who can apply?
The startups which are registered Indian company with an MVP and exploiting the technologies like Artificial intelligence, Big data and analytics, IoT, Open API, Block Chain, Networking. (This is not an exclusive list. Companies operating in other domains can also apply)
What should be the team size?
There is no formal limit. But, Bangalore facility has limited space they we will be able to accommodate only 5-6 people per startup.
Where is it Located and how to contact Axis Bank Thought Factory?
The Axis Bank's Thought Factory Located at below mentioned address,
Thought Factory,
Tower C, 2nd Floor, Diamond District,
Old Airport Road, Domlur,
Bangalore – 560008
To contact the team, mail them at thoughtfactory@axisbank.com. More details about the innovation lab will be found on their website.