When opposites meet, the cupids laugh, for even they need a good dose of Hasee! With a good story and several funny dialogues, even you can't stop enjoying this rom-com with such extremely adorable characters. Director Vinil Mathews brings you an "Opposites Attract" story in Hasee Toh Phasee with a fresh, lively tadka.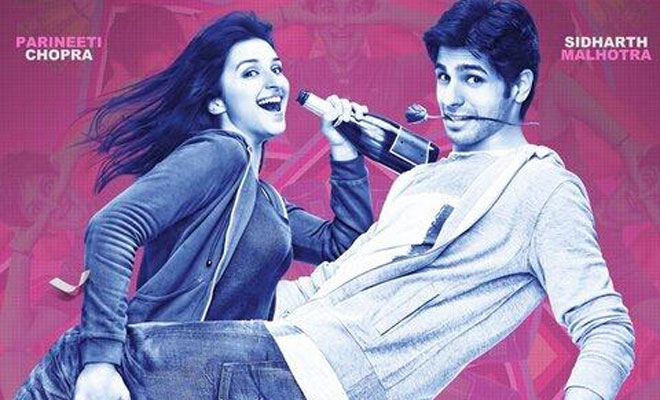 The story revolves around an extremely loyal Nikhil (Sidharth Malhotra) who wholeheartedly believes in "once in love, forever in love" wala formula. On the other side there is Meeta (Parineeti Chopra), who is totally 'dil ki sunne wali'. Once she spots something, she conquers it all to get it. Her elder sister, Karishma, is engaged to Nikhil but is faaaaarrrr away lusting after a big-fat package and not realizing the meaning of love until it's too late. Oops ! The sweet boy and spunky girl meet and sparks of conflict ignite.
Parineeti is seen constantly blabbing and gulping down food and Nikhil poorly listening to his sis-in-law blab. Throughout the film we keep waiting for the cupid's arrow to strike but boy, didn't we have to wait longer than what we anticaipated. Come oodles of emotions, drama and then the final love blossoms. The story is a simple one with no typical dialogues in Bollywood ishtyle or a Mills-n-Boons romance but has elements of fun, emotions and liveliness of life. The film radiates warm vibes making the audience glued to their seats. The equation between the protagonists is beautiful and hilarious. The rapport between Meeta and her father (Manoj Joshi) gets a superlike from my side. The songs are spunky and foot-tapping. The cinematography is very good. And the actors are superb. Parineeti is full of life as usual. Her fluent dialogue-delivery with deadpan expression wins our love. Sidharth Malhotra is charming and is good as a Choo Chweeet chokra. For movie aficionados, this is a sweet sweet film and shall make for a good watch this season of love. Hope you too have a Cuckin' Frazy Valentine.
Overall Rating: 3/5