Trapped reminded me most immediately of 127 Hours.  Danny Boyle's superb 2010 film told the true story of Aron Ralston, who literally got stuck between a rock and a hard place on a hiking trip, and made a series of increasingly desperate attempts to free himself over…127 hours, obviously. But while someone could conceivably find themselves trapped alone for days in a National Park in Utah, is such a thing possible in the heart of India's busiest city? This is the scenario that director Vikramaditya Motwane (Udaan, Lootera) explores in his latest film.
Shaurya, played by Rajkummar Rao, is introduced to us a stereotypical IT / call-center type, scraping by on a hand-to-mouth existence in Mumbai (Sigh, aren't we all). He falls big time for Noorie (Geetanjali Thapa), a dangerously pretty girl who works in the same office. Noorie is engaged to be married, but as is the fashion these days, that isn't the sort of thing to keep her from carrying on with Shaurya. When he makes an impassioned declaration of his love, she seems willing to call her wedding off and elope – but where are they going to find an affordable place on such short notice?
This is the setup that leads our hero to a shady flat in Prabhadevi, in a towering high-rise that is unoccupied because "lease ka kuch chakkar hai". Naturally gullible and high on hormones, Shaurya pays the rent in a flash, NOT QUESTIONING FOR A MOMENT THAT HE IS GETTING A FULLY-FURNISHED 1 BHK FOR 15,000 IN A SOUTH BOMBAY SKYSCRAPER. *Shakes head*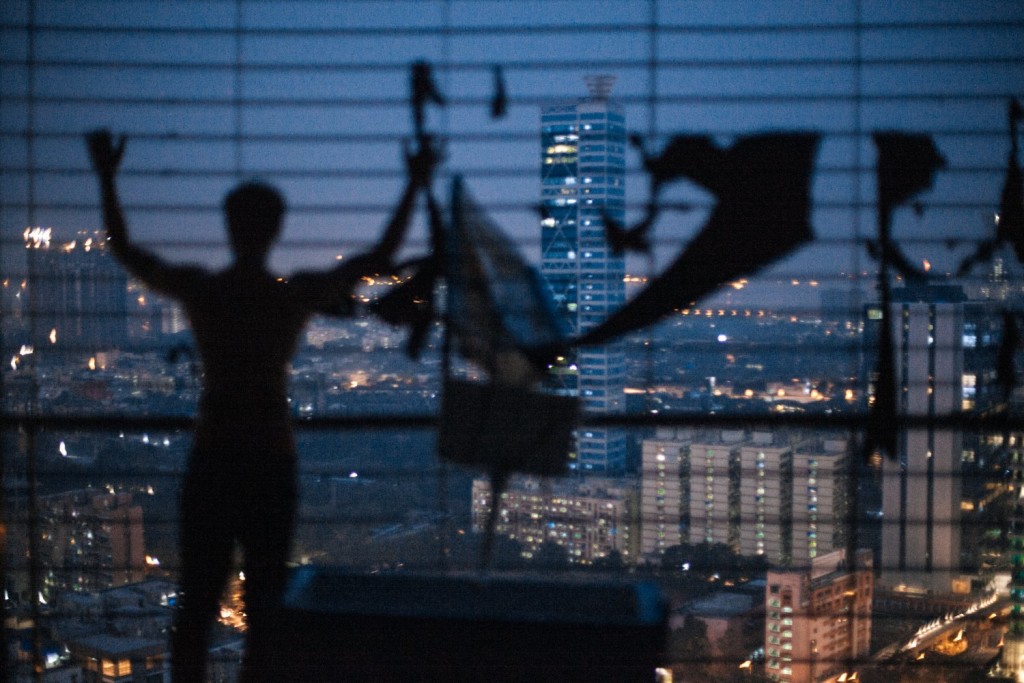 Anyway, now he's all set for Noorie to move in, but in one horrifying morning, everything changes. An incredible series of unfortunate events sees Shaurya locked into his own flat, unable to contact the outside world, and with no source of food, water and electricity. It's a highly implausible situation, with everything from the architecture of the building to the watchman's health conveniently configured to engineer the disaster scenario. Of course, such manipulation is necessary in a film like this, but I find myself wishing that the writers had worked just a tad harder to make the predicament seem more natural. However, if you can make this one logic leap, Trapped is a nice little gem – a worthy entry in the minimalist thriller genre.
The nature of the story places a big weight on the lead actor's shoulders, and Rajkummar Rao proves more than up to the task. I first noticed him in Queen, where he played the fickle-minded man who jilts Kangana Ranaut's character at the altar. He brings the same ratty nervousness to Trapped – it's smart casting. While I found myself cursing Shaurya's stupidity at the beginning, the character's simple innocence and dogged refusal to give up won me over in the end. In the midst of throwing the fan, TV and kitchen sink at his problem, Rao manages to create some touching moments too – watch for example the childlike way in which he claps with joy when an SOS message finally seems to finally reach its recipient, or the fond smile that crosses his face when he sees a familiar face in the film's last scene.
Speaking of this last scene, the ending of this movie really intrigued me, because it seems to suggest an allegorical nature to the story as well. I won't mention specifics here, for those who haven't seen it. But if you are one of the millions of young Indians who live in a metro – working long hours, hardly seeing your roommates, speaking infrequently to your family – you may find yourself alone for days at a stretch. This film, intentionally or not, seems to tell you that it's okay to be trapped – literally or metaphorically. Sometimes you can make it on your own.
Overall Rating: 3.5 / 5 Stars