We don't remember a film because of the awards it won or even for that matter how financially popular it became. A film stays on in your heart because of how it made you feel then and there. This film might not stack up against its contenders at the Awards etc. in terms of number of nominations but make no mistake of underestimating the performances and story alike.
I have been an ardent fan of both Emma Thompson and Tom Hanks. In hind sight, I chose well when I chose to watch this film. Not hard to understand why. A film about how a cinematic masterpiece almost never made its way on-screen… let alone into hearts of generations!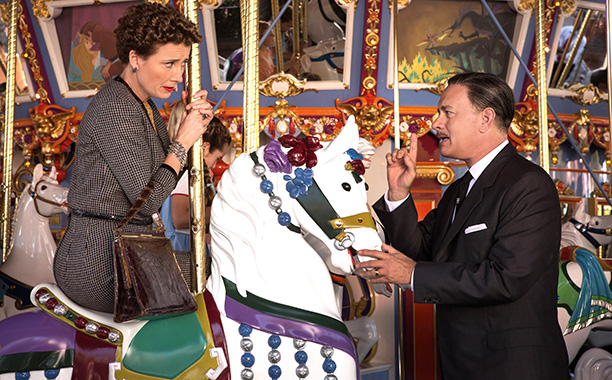 Story:-
As you might have figured out from the endless online film blogs(such as this!) and the trailers of course, the film revolves around the story of author P.L. Travers, who after having penned down her stupendously mesmerising book "Mary Poppins", has been approached by none other than Walt Disney himself in order to convince her to sell  him the book's cinematic rights for the past 20 long years as a promise to his the-then young daughters.
Travers, who is the central most character here, is shown as a staunch, uptight, ever-so-bottled up Brit who is "well capable of doing things on her own" even if she is finding it hard enough to retain her sub-urban London house. She is unapologetically honest and unaccommodating to people generally, but is at her uncompromising best when imagining the idea of her umbrella-baring nanny in the hands of a major money making cartooning company will turn out to be like.
Throughout the film, we are introduced to characters of Travers' past and how her experiences with her family, especially with her doting father, proved to be the inspiration for her book. The myriad emotions amongst the domestic problems foster her ideologies and help shape her as the person we see.
Disney and all the members of the creative unit at the Disney Studios face a tough time, yet hilarious enough, so as to get Travers even remotely interested in whatever creative they have to offer.
All of us know that they were eventually successful in making the movie…..a symbol of hope and good spirit till this day. But it's the journey of how the author let go of all that resentment inside her while her two week stay in Los Angeles.
Acting & Technical department:-
Just one word for acting- BRAVO!
Thompson and Hanks fabulously portray Pamela Travers and Walt Disney with so much ease and sanctity that they are easily two of the best performances in recent times yet quite under credited. My personal favourite scene would be the sing-dance performances in the studio rooms where the music directors Sherman Brothers (B.J. Novak and Jason Schwartzman) and screenplay and creative advisor Don Dagradi (Brad Whitley) are not only able to impress the likes of the "her majesty " herself but also loosen up her a bit. Ralph (Paul Giamatti), the good natured chauffeur of Travers is equally riveting.
The biggest surprise however came from Colin Farrell who plays the drunk, dreamy and vulnerable father of the author in flash back.
The set pieces used to show Disney Studios in the 1960's are exceptional along with the real tapes of the Travers' conversations with the team at the Studio and file photos of the premiere night of 1964's blockbuster "Mary Poppins" have been used to good effect. Great job by John Lee Hancock of The Alamo and the more recent 2009's award winning The Blind Side. Music is inspired by the music of "Mary Poppins" yet is so fresh and emotionally engrossing.
Overall Rating :- 3.75 / 5
The best teacher ever is life itself. Inspirations from real experiences amount to nothing short of, well, magic.