While Twitter rules the roost as the go-to social media to check on breaking news, Facebook has made a slow yet strong entry into this domain with its latest feature called FB Newswire. Staring Thursday, the social media giant shall include original user-posted content (be it text updates, images, or videos)  at the scenes of newsworthy global events as news articles. Facebook will post this real-time user content to its page FB Newswire and even in its Twitter profile (of course, all posts shall be verified).
Simply put, Facebook wants to rule the digital journalism segment, and this step was made possible due to FB Newswire's partnership with Storyful, a news agency that aggregates news content shared on social media. Storyful is spread across different continents and totals three offices, which house a team of journalists who'll work to verify the news as it gets shared on social media and then publish the same on FB Newswire.
The agency shall employ an algorithm to detect popular and breaking news stories on Facebook in various categories like Media/Entertainment, Sports, Technology, Politics, etc. Storyful shall then follow-up on these stories, and once human verification is done, the verified content shall then be surfaced to FB Newswire.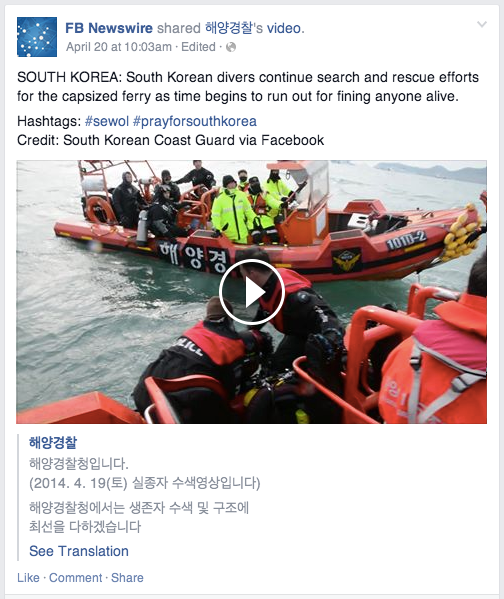 While FB Newswire shall entertain stories from all over the word, even in languages other than English, the captions on the same will be in English alone. There's no cap on the number of stories FB Newswire and Storyful plan to post per day – instead on the quantity, the more emphasis shall be on the quality of the articles – stated Aine Kerr, managing editor at Storyful.
This is in no way like the News Feed. In here, Facebook is trying to offer you a digitally newspaper experience. This isn't personalized per user. Also, subscribing to FB NEwswire is pretty simple – just like the page and all stories shall start appearing on your News Feed. Also, like Twitter, users have an option to embed Facebook posts within stories (something the company rolled out last August, seeing how successful embedded Twitter posts were).