It may be way behind schedule, but the launch is finally here. The Epson Moverio BT-200, a pair of high-technology smart glasses which employs twin-microprojectors to display images on the interior pane with a 960 x 540 pixel resolution, has finally started shipping for $699. The smart glass boasts inbuilt Dolby speakers, a front facing camera to record what's coming, inbuilt accelerometers, gyroscope, digital compass, and an Android handset to control the device. Why this glass is interesting is, instead of the small screen projecting content in Google Glass, it actually projects content on the see-through lens to inline the visuals with the real world. Also, Epson has partnered with Augmented Reality firm Metaio, and has employed their superlative Augmented Reality SDK.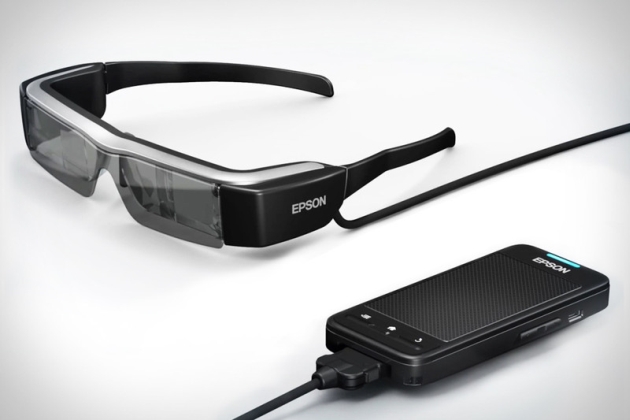 Anna Jen, Director of new products at Epson America, stated – "Moverio BT-200 is Epson's second-generation smart glasses and incorporates much of the feedback provided by both the augmented reality developer and end-user communities." She added that with incorporated improvements, Moverio BT-200 shall deliver an AR experience that shall revolutionize workflow, training and  support in enterprises.
The external Android device serving as a touchpad for these glasses ensure a better battery life and heat reduction. The better battery life lets Metaio work longer and show more complex content. Compared to its predecessor Moverio BT-100, BT-200 is 60 percent lighter, and are even smaller, offering better comfort. Adding to the comfort are the several inserts they have for different shading (like in sunglasses), and also inserts for prescription lenses.
Moverio BT-200 offers huge functionality adn shall suit many innovative applications, and that too at a cost much lower than what you'd pay to acquire a Google Glass. If you're okay looking nerdy (that's cool and in fashion!) and if you don't mind controlling the device via a separate unit, this Epson offering could be a very interesting option indeed.
Watch the below video to get a product overview:
What's your thoughts on Epson Moverio BT-200? Let us know in comments below.
Via : Epson