Disclaimer: Contains spoilers, although this isn't the kind of movie that is spoiled by knowing what happens
Maybe it's just because I'm not very good at keeping up with the news, but I don't remember ever hearing about Geeta Phogat, or her sister Babita Kumari. Now I know that Geeta won India's first ever gold in women's wrestling at the 2010 Commonwealth Games. Babita won a silver at the same games, although in a different event. What made the achievements of these sisters even more remarkable was that they hailed from a small village in Haryana, which isn't exactly utopia for women. In fact, if they handed out medals for low sex ratios, Haryana would find itself on the podium year after year. The Phogat sisters' triumph, supposedly masterminded by their father Mahavir Singh, should have been a big story, but it wasn't. At least I never came across it.
Luckily, Divya Rao did. The Disney executive read an article about the Phogats in 2012, and immediately saw cinematic potential. The decision-makers at the Mickey Mouse club bought her pitch, and Nitesh Tiwari was recruited to write and direct the film. Aamir Khan was approached for the lead role of Mahavir Singh Phogat. He loved the script, but in classic Aamir Khan style, wanted to do the film after 10 years, once he had turned 60. He changed his mind eventually, and decided to do it now. Let's all join hands and give silent thanks. Dangal is a sledgehammer of a film, and coming right after 2014's wonderful PK, puts the star on Aamir's Christmas tree of redemption after that inexplicable Dhoom 3 decision that will never be mentioned again from this day forth.
Mahavir Singh Phogat lives and breathes wrestling. Forced to abandon the sport due to a lack of financial support, he is determined to see that his children do what he couldn't. So what if he couldn't win India a gold medal,  he will make sure that his son fulfills this dream. Unfortunately, this plan hits a bit of a snag when Phogat's first-born is a daughter. And his second-born. And his third. And despite feeding black cows with the left hand before sunrise, and reciting customzied paternity mantras, and only letting the horse leave the stable on Sundays, so is the fourth…
Mahavir resigns himself to the fact that the gods just haven't made room for medals in his naseeb, and mopes around for a few minutes of runtime. Until one day, his two eldest daughters thrash a couple of misbehaving ruffians. This Haryanvi village may not have electricity, but the lightbulb goes off anyway. Gold toh gold hota hai, chhora laave ya chhori.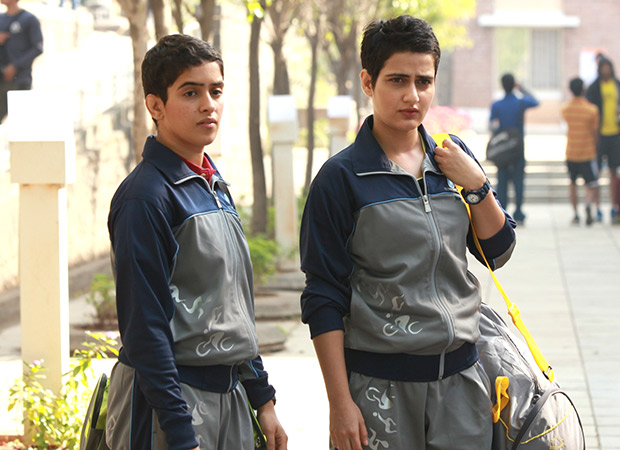 What follows is essentially a conventional sports movie, although the sport and setting are unconventional for Indian audiences. Don't get me wrong, 'conventional' isn't always a bad thing. When a story is executed well, it doesn't matter so much if its predictable. And Dangal is executed phenomenally, especially where it matters the most: the wrestling.
Good Indian sports movies have usually been better at the 'movie' than the 'sport'. We didn't cheer for a technical contest between bat and ball in Lagaan. We got a kick out of how the colourful characters were integrated into a game we knew so well, but our eye was  the broader conflict between the harsh colonialists and the simple villagers. Much of Chak De! India's pleasure was in watching Kabir Khan mould a group of unmotivated, bickering girls into a cohesive team. Nothing we actually saw play out on the hockey field was terribly exciting.
In Dangal, this balance is reversed. I found the non-sport aspects of the film slightly shaky. For instance, I'm not sure how much I see this story as a feminist fairytale. What the Phogats achieved in the face of Haryana's oppressive patriarchy is almost miraculous, but remember that (according to the movie) Mahavir forced the girls into wrestling to fulfill his dream – they had no say in the matter at all. In this context, a monologue that Mahavir delivers to Geeta towards the end about 'doing it for the girls whom no one believes in, etc.' feels forced. The movie also sets up the National Sports Academy wrestling coach as a caricaturish villain, and introduces a jarring subplot where Geeta is led astray by new friends. This happens around the halfway mark, and at this point I was genuinely worried that the film was going to lose its way in an effort to do too much with the story. However, Dangal never stays too far away from the akhada or the wrestling mat, and it is here that the film is simply jaw-dropping. Almost every wrestling encounter we see is shot in real-time, and the matches are stunningly choreographed. We move from grapples to takedowns to reversals to suplexes in a blur, and we don't feel for an instant that we are watching actors. These are athletes. The action is on par with anything we've seen in the Rocky films – I'd say even better because boxing can be bloody and violent, and make you want to look away. Wrestling, as visualized in Dangal, is pure grace and fluidity – you can't take your eyes off it.
As far as mainstream stars go, Aamir Khan has always been in a league of his own. Dangal sees him undertake a transformation more impressive than the one he underwent for Ghajini, and he might well rate this as one of his best performances. But this isn't a one-man show by any means. Fatima Sana Shaikh and Sanya Malhotra (older Geeta and Babita), and Zaira Wasim and Suhani Bhatnagar (younger) are stunning, and if anything are the real protagonists of the film. Sakshi Tanwar shows a range that Balaji soap-opera faithfuls may not have suspected of her, and Vivan Bhatena and Aparshakti Khurrana lend some nice comic relief. This is a top-class group of actors.
I'd say Dangal and Pink are neck-and-neck in my estimation of the best Hindi movies of the year. There are obvious similarities between the two. Both deal, or think they do, with female empowerment. Both feature massive superstars who dominate the scenery, but are content to play a supporting role when necessary. And both films have flaws, but signify a noticeable leap in the quality of our cinema. Bollywood is steadily getting better, and so it's good that Aamir didn't wait ten years to do Dangal. It's turned out to be one of the best films of the year in 2016, but the way things are going, a film of this quality probably wouldn't have made the cut in 2026. Isn't that exciting?
Overall Rating: 4 / 5 Stars