Baramulla Bomber – a book by Clark Prasad aka Suraj Prasad starts with the lines – "In the beginning was the word, and the word was with God, and the word was God." and "Si vis pacem, para bellum" that translates to: If you wish for peace, prepare for war' – and you are taken into a world that is an interface between reality and fiction. A world that has ancient secret societies as well as modern intelligence organisations. Woven in stories that happen across the globe – From India to U.S. and China to Sweden, this book brings together multiple facets of a story under one gripping thriller. With Baramulla Bomber, this author from India has achieved a beautiful blend of topics that enthrall us all – There's science and mythology, cricket and war, desire and conspiracy all in a mixed bag of events that unfold a story before the reader like no other.
The story begins with three prominent characters – Adolf Silfverskiold, a Swedish intelligence officer, Aahana Yajurvedi, a mountaineer and girlfriend of one Mansur Haider, who is a cricketer from Kashmir and a prime suspect being tracked by multiple intelligence agencies and Agastya Rathore, the then Indian Home Minister – all jump off a bomber plane to destroy what is called the Ancient Biblical-Vedic weapon. And slowly are we introduced to the different people of the story as we turn the pages. The author has done a great job in bringing his characters to life, Abhimanyu Kashyap and Carina Leijonnufvud in particular. The story kicks off after a mysterious earthquake struck Shaksgam Valley. But is it an earthquake? Or was a biblical weapon tested in there? There's probabilty of Indo-China war breaking out? But why? Why is Mansur Haider important? Is there a solution to the Kashmir crisis? Can destiny be controlled? Does a cosmic religion exist? – As you get engrossed in the story from the very beginning, all these questions and many more get answered.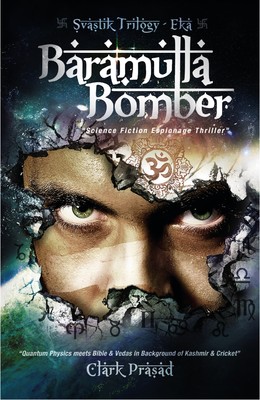 Interestingly, along the course of the book, every reader comes face to face with a lot of historical events and scientific theories, but in a much unexpected way, all of it is easily absorbed and take the plot up to a different level. One has to admit that in the first 50 pages – there's just too much information to take in, but the use of images, letter format and news clippings make it somewhat easier. But we do believe that the author could have gone easy on using them repeatedly in every part of the story. Anyway, apart from the really commendable character formation, we have to give the author full marks on doing extensive research work before and during writing this novel. As you turn the pages, while something is always happening that you couldn't have predicted, you keep realizing the amount of work that has been done to bring forth the facts and the fallacies.
Without revealing any of the story, we conclude by saying that the book and the author – both have a lot of potential to work wonders. The book is left with a little something about the Svastik Trilogy. The series of three books – Eka, the Baramulla Bomber, Dvitiya – The Consultant and the third book or Tritiya (Yet to be titled) are all concerned with a question – What is the power behind the creation of Universe and human origins? The main protagonists of the first two books are different – you can start with either one or two, but the culmination of the story will happen in the third one.
We eagerly await the arrival of the next two books in the trilogy. Baramulla Bomber has definitely set a new benchmark for espionage thriller writers in India. After we read the entire trilogy, will we be able to say that this one's not just an Indian thriller, but an International one? Let us find out, soon!
Overall Rating – 4/5
You may order this book from Flipkart here:
Check out Baramulla Bomber's trailer below:
About the Author: 
Clark Prasad, alter ego of Suraj Prasad, could be called a mixed citizen. Born in a leap year (year of Rocky, All the President's Men, Omen, Hera Pheri and Kalicharan) in Lagos, Nigeria he lived most of his life in New Delhi and had his education in Lagos, Delhi, Mangalore and Kozhikode. His family background is from the town where George Orwell, author of 1984 (a dystopian fiction) was born, and where Mahatma Gandhi had re-ignited India's freedom movement – Motihari.
A pharmacist with a management degree who believes in conspiracy theories, Baramulla Bomber is his first book. His first education o he mysteries of the universe came via Carl Sagans Cosmos, and since then he never looked back on reading, watching and discussing about the universe. He grew up during the cold war days with BBC radio was one of his mysterious companions as a kid, when his father played the news regularly every day. World War II news and documentaries on CIA-KGB tussle kept him engaged that time.
As a kid he wanted to be an archaeologist or an astronaut, but fate had its own road and he got involved with Mr. Carbon aka Chemistry. Currently he is a healthcare management consultant, based out of Bengaluru, Planet Earth.