Dinesh Gupta is an engineer by profession and has debuted with his first Hindi Poetry Collection, which is published by Diamond Books. He is working in Amdocs, Pune.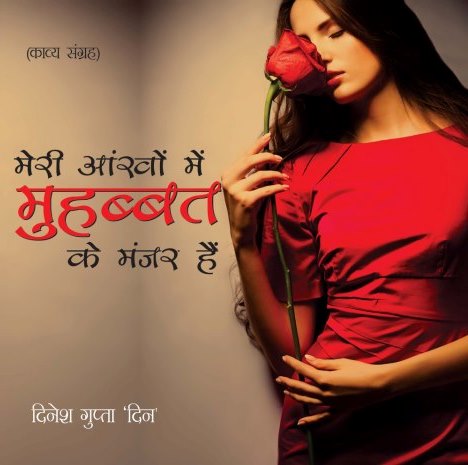 Tell us something about yourself and what do you do professionally?
I am Software Engineer by Profession & Poet by Interest. Although I started writing as a hobby but nowadays poetry is passion for me. Poetry has entered into my Blood.
"Shabd Meri Ragon Men Khoon Bankar Daudte Hai aur Kavita Meri Nason Men Behti Hai"
What is the book about and what mood or genre (Ras) you like to write?
Although the name says book is Pure Romantic Book but Poetry for me is an expression of feelings which I cannot describe better in words. This is my first book and I have lots to share with readers. That's why I decided to include Poetry, Shayari, Songs and Article, all together on Variety of Topic like Love, Desh-Prem, Dreams, Imbalance in Society, Terrorism.
Basically I write in Srinagar Ras but whenever Problems & Crime in Society, Downfall in values of Politics hurt me and touch my innerness, I write on any topic and Ras.
Among hoards of people who are engineers and write English novels, you decide to pen down your thoughts in Hindi. Why?
I believe Language cannot be boundary to express your feelings and touch heart of people. I choose the language which is close to me and also in which I am more comfortable. Yes, it's tough to change the trend where all Bestsellers Authors are from English now days. Still I am trying hard. I am sure, I will make it.
What motivated you to get published?
First I started posting my poems on Facebook & online Blogs. I got tremendous Response from Readers in my network there. Some of readers who closely follow me gave me some wonderful Compliments. My Poems were also selected in 3 Joint Poetry Collection.
Amazing Response from Readers, nice complement & Editors Attention gave me the confidence that this is right time for me to come up with my Poetry Book.
What has been the readers' response so far?
Readers Response is superb to my Poetry. As Far as Sale of Book is considered it's good on the one hand being New Writer with no Poetic Background but still I think this is not the stage where this Book should be and there is long way to go.
What is in store for Dinesh Gupta's fans and anything you would like to say to your readers?
Apne bhithar ki awaz  ko shabd dene ki koshish kijiye, rachna khud-bo-khud ban jaegi. Dil ki sune, shabd chune aur bas bune. (Let Readers Decide.)
I am Poet of Love so I would like to give message to all of my young Readers and Writers "Read Love, Write Love, Do Fall in Love. Being in Love is amazing feeling, just go and experience it. There is no harm in using Writing for entertainment but understand your responsibility as a writer for society first. We have lots of issues and problem in our Country and we need Young, Energetic blood to overcome those. Be always with your nation wherever needed. This country has lots of expectations from youngsters.
                                                Dikha do zamane ko lahu main humare bhi ubal hai…                                                 Machal jaaye ham jab jis oar us oar toofaan aata hai…