'B.A. Pass' is Director Ajay Bahl's faithful cinematic adaptation of The Railway Aunty, one of the short stories in Mohan Sikka's anthology "Delhi Noir", that delves deep into human conscience. This erotic human drama narrates the story of a financially-challenged young man who's drawn into the perverted world of prostitution with the promise of quick money.

The stage is set in the narrow lanes of modern day Pahargunj where the naive, young and shy Mukesh (Shadab Kamal) is staying with his aunt post his parents' death. His kin is not too keen over taking his responsibility, but family bonds make them take it, and off he goes to become the Harry Potter at his aunt's place, where there's a Dudley-like cousin (not physically) to look him down. He practically has no one to share his plight with. To fight his loneliness, he practices Grandmaster Kasporov's moves in a graveyard, where he makes a friend in the gravedigger Johnny (Dibyendu Bhattacharya). His aunt's kitty party introduces him to the extremely attractive and flirtatious Sarika Aunty (Shilpa Shukla in an outstanding role!), post which she gradually gets him to warm her bed. The art of lovemaking is taught, and one day she assures him that he's ready to take on an affluent clientele. A gigolo does he become, earning money in big numbers by compromising on morality. But all is well only till Sarika's husband Khanna (Rajesh Sharma) walks in on them fornicating, and at this point things go turbulent and Mukesh finds himself at the receiving end of life's ugly teachings. Talk of karma being a bitch!
The performances of each and every actor, straight down to the junior artists, is commendable. Shilpa Shukla plays an arresting Sarika aunty, who doesn't reveal her insecurities easily. There'a a calm demeanour surrounding Sarika as she breaks the middle class hypocrisy to materialize her own desires, and Shilpa has remorselessly carried out the cougar-role till the very end.  Shadab Kamal is a find, and his transition from a naive young man to a sexually empowered guy who's frustrated and dejected with the continuous betrayal has been splendidly described. Dibyendu Bhattacharya as the chess-playing gravedigger Johnny does well in whatever little screen time he enjoys. The ever-dependant Rajesh Sharma too shines in his performance. Deepti Naval in her special appearance seems somewhat out of the place. The auntijis and the bibijis add to the situational hilarity.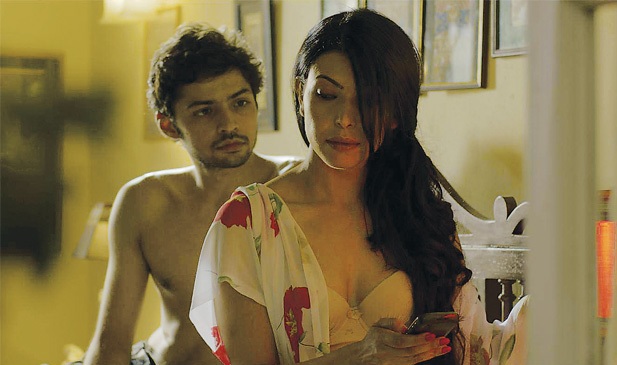 Ajay Bahl has donned several hats for this film, and he deserves all the credit for having captured the true Delhite middle class essence on-screen. Technically the movie is a total win- Ritesh Shah's screenplay maintains complete fidelity to the book and the manner in which the sounds have been employed throughout the film is appreciable. Alokananda Dasgupta's music is noteworthy too, and the track that plays at last while credit rolls holds your attention.
This movie capitalizes big on the sex, but never does it come across as vulgar. The act of love-making has never been seen this way before on Indian screen- sans the unwanted pelvic or bosom thrusts. This is erotica as raw and as true as it can get, and categorizing it as just noir would be wrong at our end. Watch it for the brilliant performances and for the bold attempt by the makers to bring forth before you this feisty piece of cinema.
3.5/5