One can never get enough of college dramas where the "freshly-out-of-the-college" with oodles of "Raging Hormones" go overboard to explore the mystery of life. Yaariyan is yet another concoction of friendship, love, unity, betrayal, competitiveness and blah blah. Director Divya Khosla Kumar did the same old job of creating the same old story of a non-serious lafanga falling for a seedhi saadhi padhaku and a stupid clown who enthralls all along with a biker dude and a sexy diva. The story revolves around a bunch of 5 collegians who are wacky in their own way. Lakshya (Himansh Kohli), son of a martyr, is a happy-go-lucky, carefree flirt who has no regards for his father, Saloni (Rakul Preet), a retired teacher's daughter who is the studious seedhi saadhi types, Jiya (Nicole Faria), a flop singer's daughter who scampers around the campus wearing skimpy outfits and serially dating guys, Neil, whose life is all about bikes and Pardy (Shreyas), the group clown and a wacky drummer. Life's a cakewalk until their Principal (Gulshan Grover) summons them to inform them that their college premises is to be sold to some Australian tycoon and that the college's future lies in their hands (ufffff! so typical). Soon, a competition is held between these five students and the students of firangi college amd starts a series of obstructions testing their strengths. In between the fight, Love happens between Jennet( Evelyn), the Aussie player and Lakshya and a team mate betrays his team and helps the Aussies. The protagonists realize their friendship , true love and the seeds of their strength and patriotism which were dormant till now suddenly begin to sprout..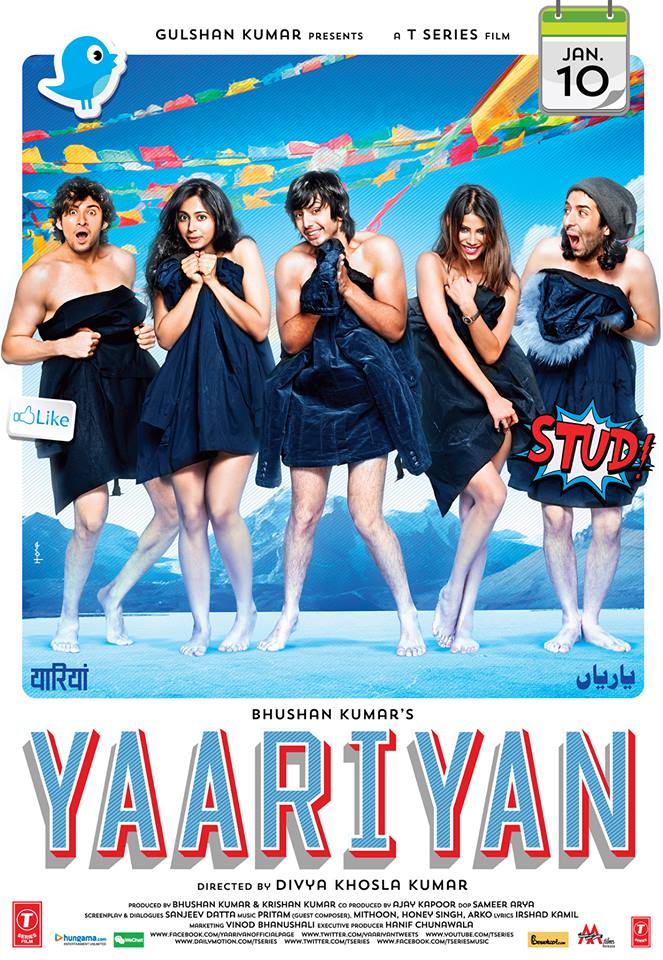 The beginning is full of fun and you really enjoy the film until the interval after which it takes the typical turn of love triangles and victory. The storyline is mediocre and it gives you the feeling of 'Been there seen That". The ending of the film is monotonous and exaggerated where the hero suddenly becomes the James Bond!! One can always wonder about which college has such a lifestyle!!Few sequences of the film are hilarious indeed and you just cant stop laughing at the punchlines.One good reason to watch the film is that all the faces are fresh and have performed well. Debutante Himansh Kohli is convincing and charming as Lakshya. Rakul Preet Singh is sweet as the cliched Behenji and Nicole is drop-dead gorgeous. Neil and Pardy are charming in their respective roles and Jenny ( Serah Singh), the bimbo bombshell is a complete eye-candy. The flings between Lakshya and the three gals- Jenny, Janet and Saloni are way too typical. Deepti Naval as the loving mommy of Lakshya's deceased childhood friend Debu is excellent. All the others fill in the picture well.
The best part of the film was it's songs. Kudos to YoYo Honey Singh for churning out best of numbers that keep us from leaving the theater. Hits like "Blue hai paani" and the " pajama party song" are to groove for. Hence, the film can be summed up like this- a same old college drama with good songs and fresh faces.
PS: Although not a must-watch, one can consider going if he/she has a taste for YoYo's music or has nothing to do.
Overall Rating: 2.5/5