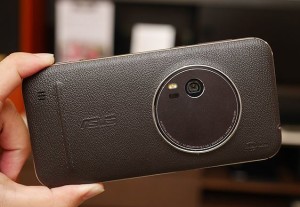 Asus Zenfone Zoom was announced in 2015 but it's only a few months ago that it was finally released in the world market.  The Zenfone 2, which launched before than Zoom, earned quite a name for itself in the last few months but does the Zenfone Zoom  live up to the excitement that Zenfone 2 has generated? Let's find out.
DESIGN & DISPLAY
We are looking at a premium and well-made piece from Asus with aluminum unibody frame and diamond cutting edges with Ergonomic Arc. The device comes with 5.5" 1080p IPS Display with 403ppi pixel density – colours look natural and the phone has a decent brightness output with great viewing angles. On the front the bezel is spaced to include the Asus branding, earpiece and a 5 MP snapper along with a notification LED. At the bottom of the display we have capacitive keys for back/home/menu, the chin only adds artistic touch with metallic finish.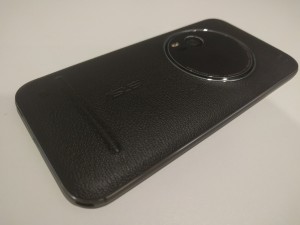 At the rear a removable leather back adds textured feel to ZenFone Zoom, which has the a 13MP camera with a circular bump with Dual LED flash and Laser Auto-focus and speaker grill at bottom left. We have the control buttons on the right, which are also made of metal. The phone has dedicated shutter keys unlike other smartphones in the market. The bottom is laced with a Micro-USB port  and two mics for noise cancellation.
USER INTERFACE
Asus Zenfone Zoom runs on Android 5.0 with Asus's homemade ZenUI skin. Zenfone has accessibility to tons of customization such as icon packs, themes, wallpapers, transition effects etc. The performance is buttery smooth you can run any no of apps in the background and still expect  flawless performance. The U.I also offers gesture controls which works fine. Since ZenUI offers everything that you need, the need of third party U.I extensions is diminished. Titbits also include setting of password on apps to restrict access.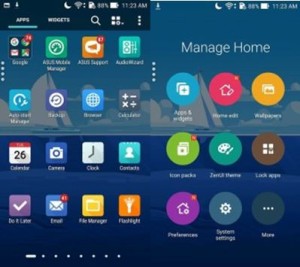 HARDWARE and PERFORMANCE
ASUS Zenfone Zoom is equipped by a Quad-core 64-bit Intel Atom Z3590 CPU processor clocked at 2.3GHz coupled with 4GB RAM and with an expandable storage up to 128GB. The day to day performance is as good as expected.Hovering between apps is smooth and I never experienced any lag even while keeping multiple background apps running . Gaming is just amazing with the power of PowerVR G6430 GPU under the hood. Even the most processor-intensive of games such as Asphalt 8 and Real Racing 3 ran flawless. The graphics look stunning, the speaker output is very impressive and the device did not heat up even after 30 mins of gaming and that is rare to observe in todays multicore cpu's
CAMERA
Phew! This is where Asus has struck Gold. The Asus Zenfone Zoom has a 13MP rear and 5MP front camera. This is also the first phone to come with a 3x Optical Zoom . Zenfone Zoom is coupled with Laser Focus that focuses on the object in just 0.03 seconds . It even houses a 10 element HOYA lens to give you the crisp detail that you need in a camera phone. The camera app from Asus is full of features for different shooting modes which includes manual, super-resolution( stitches image up to 52 MP), HDR, Panorama, low-light and night modes.
The daylight images are really impressive with good amount of details, the dynamic range also looks good. Sometimes colours tend to be over saturated which leads to an unnatural image. There is lot of noise when taking a picture at low-light in auto-mode, but there's a dedicated low-light mode which basically brightens up the image reducing the picture quality. The selfie camera can take some good looking images which serves the purpose. One disappointing aspect of the Zenfone Zoom  camera is the unavailability of 4K recording , In 2016 a phone which has a camera as its USP simply can't do without 4K.
BATTERY LIFE
The device comes with a 3000mAh non-removable battery, which gives a decent performance. The device comes with Boost Master technology which helps to charge your smartphone faster. Battery is not the best but you will get around 4.5 hours of screen on-time.
CONNECTIVITY
The phone supports plethora of connectivity options, which includes Bluetooth 4.0, Wi-Fi, Wi-Fi Direct, A-GPS, GLONASS. As far as quality is concerned, the Wifi, GPS, Bluetooth, call quality or signal reception everything works fine. The call quality was pretty good from both the ends  and the signal strength was pretty decent.
CONCLUSION
The Zenfone feels like an expensive phone, the UI, optical zoom seems to be impressive but the price tag of  Rs 37,999 for a cool concept phone doesn't seem to get far. The phone looks future proof but there are definitely better options out there(Zenfone 2) at a cheaper price. If Asus had released Zenfone Zoom when it was first announced in 2015 then the comparative analysis would have been in Asus's favour . At the end the Zenfone Zoom is not a bad phone at all but a steep price, lack of 4K will make users think twice before making the purchase.