There can never be just a few highlight-worthy points that make an Orhan Pamuk novel the page-turner that it always turns out to be. The Nobel Prize-winning author who gave us an eternal panoramic love story in 'The Museum of Innocence' and has over the years left us yearning for more, has used this very element of human desire to breathe life in his new book. What strikes me the most about Orhan Pamuk's style of writing is the myriad of characters he weaves in his tales and the perspectives that unfold as a result. His signature shifting narrative technique is at its most superlative form here.
Orhan Pamuk's latest novel titled A Strangeness In My Mind is story is about Mevlut Karatas and his lifetime set in the period between 1969 to 2012. What makes you pick the novel up from a bookstore's 'best-selling' shelf however is the mention of beautiful city of Istanbul, a location rich in heritage, the center of the world and having one of the world's most culturally tumultuous history. Set on the backdrop of Istanbul, A Strangeness In My Mind is not just another coming of age story. It is that, but has a lot more beyond it. The chapters expeditiously turn the tale into a series of events where Mevlut's desire for his life's calling feels real, and you can't help yourself but cheer him on to find what is it that he has been seeking – the answer to the strangeness in his mind.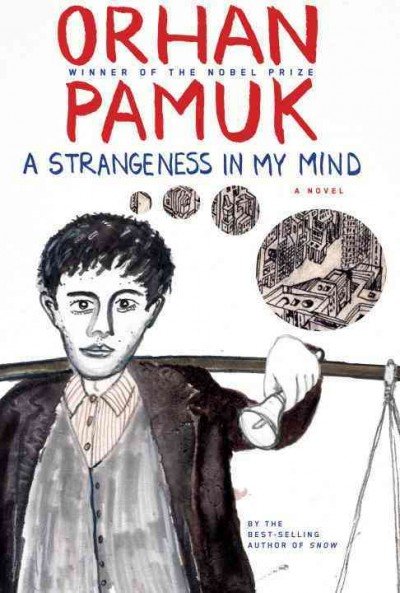 The protagonist Mevlut is a brilliantly sketched character. In his day-dreams he fantasizes about what his life would be as poor kid living in Central Anatolia in the late '60s. Following a series of events that land him in Istanbul, Mevlut is mesmerized by the charm of the old city that is gradually disappearing, while a new city takes shape in its place. Here after begins the story where Mevlut just like the city seems to be caught in two worlds. Following his father's footsteps, Mevlut starts selling a mild alcoholic drink 'Boza' on the streets of Instanbul, with the dream in his pocket that he too, like his fellow villagers, will someday become a rich man. All this is happening as Istanbul experiences the divide between the upsurge of the metropolis and the untouched, desolate hill-side village.
As years pass by, desperate in love, Mevlut finds himself writing letters to a girl he saw once at a wedding ceremony. Fate however has different plans and Mevlut ends up eloping with that girl's sister. Although marriage and his growing age teach him to cherish his family, Mevlut is stuck in his professional life. The reason are a series of jobs that lead him to nowhere. His desperation sometimes leads him to politics of his friends, and sometimes to the teachings of a fascinating religious guide. But no matter what came, Mevlut wandered around the streets of Istanbul selling Boza and pondering over the 'strangeness' in his mind that helped him distinguish himself from the crowd, till destiny conspires once again to make him understand what he truly has desired all his life.
Orhan Pamuk's latest book is a beautiful portrayal of the life of outsiders who've made Istanbul their home and have shaped it over the last fifty years to what it presently is. Turkey being a familiar setting for the author, he brings the changing times of Istanbul, both political and infrastructure-wise, to the readers through a common man's perspective, making the read so much more richer.
Over 600-pages long, this book may come off a bit overwhelming. But with a story weaved in the thread of human yearning, it shall definitely be hailed as one of Pamuk's finest works.
Overall Rating : 4/5