This is one book I delayed reading because I'd recently finished with Osamu Tezuka's manga series Buddha, and I didn't want to mix-up characters or sub-plots of these two stories. Also I was a bit reluctant in picking up the book after Bollywood ruined the character for me. A thriller novel and a couple weeks later, I was ready for Wytze Keuning's characterization of the great Mauryan king Ashoka in a rare book that brilliantly sews history and fiction to bring forth a tale that's glorious by all standards. Special thanks to J.E. Steur who translated this masterpiece for a wider audience.
Some believe that Ashoka is the personage we know him today because he expanded his grandfather Chandragupta Maurya's kingdom into the world's largest. Others sing of Ashoka's greatness because he was the first of kings to have actually established a welfare state back then. Keuning's book addresses this difference and even sorts it out.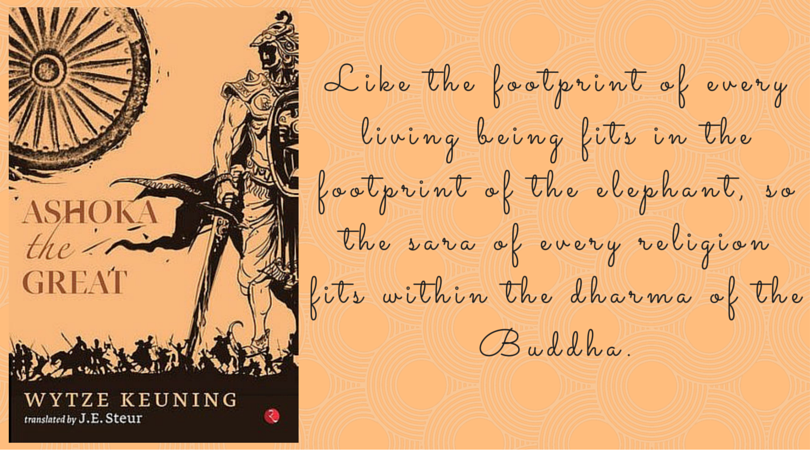 The narrative starts with a young Ashoka trying to understand reason behind prevalent social malices and stands totally against such practices, and it's clear to him that the great Mauryan empire can crumble to dust if his older half-brother Sumana is given the throne. Keuning has also managed to show the political, diplomatic and military relations between the Mauryan Empire and the Greek Kingdoms as understood from the Ashokan inscriptions.
Keuning wrote this book in the period of 1937-47, and quit his job of a school-teacher to dedicate himself to this task. He had never been to India, and had limited material in terms of research. But there's a detailed insight on the Mauryan traditions and practices that you may come to fancy. This 1000+ page fictional biography is a combined piece of a trilogy published earlier as three separate volumes (viz. Ashoka, the Wild Prince; Ashoka, the Wise Ruler; Ashoka, the World's Great Teacher), which carries not only the thoughts and actions of Ashoka but also preaches those of Buddha, thoughts relevant even in the present times. Ashoka's arguments on Buddhism and his methods of thought formed some of the best parts of the book.
My reading of historical fiction is so far limited to just a handful of books. I can not vouch for the credibility of the period recreated in the pages of this book, but it definitely made for a handsome visualisation.
Overall Rating : 5/5
You may purchase the book from Flipkart or Amazon here-