I sincerely hope Bollywood's attempt at modernizing old Indian classics stops here. I was never a fan of the original Zanjeer, but then I've watched it many a times just to get the feel of Salim-Javed's legendary dialogues simmering with rage, which Amitabh Bachchan mouthed so very well. That's what made the film such a huge hit, and bestowed upon Amitabh the sobriquet of  'angry young man'. Apoorva Lakhia's rendition of the classic is as tatsteless as it can get, and calling it a tribute to the former is the biggest insult to the former.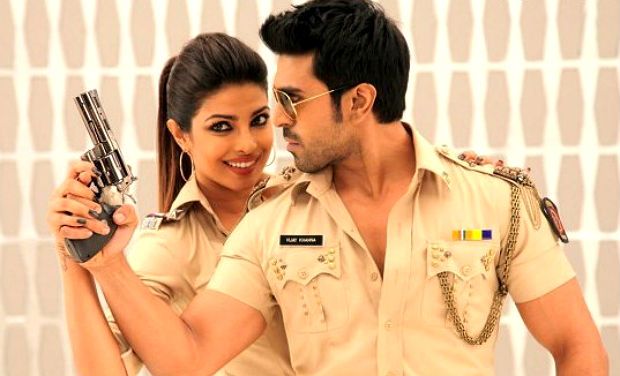 Even if we don't compare the two, the latest comes across as a badly made front-bench audience film. While the main story that forms its spine remains the same, a few key events here and there have been modified as per present. The movie opens with Inspector Vijay Khanna (Ram Charan Teja) making a glorious entry smashing thugs against a huge poster of his megastar dad Chiranjeevi, all this while Raghupati Raghav Rajaram blares in the background. Ram Charan's brand of heroism would've worked well if the story was equally supportive. Vijay has been transferred with AP numerous times in his career spanning 5 years, and now he's ported to Mumbai where he gets his first cae- An NRI Mala (Priyanka Chopra), returns to India only to witness a murder committed by Teja's (Prakash Raj's) men. She informs about this development to Vijay, who asks her to reside in his own house to ensure safety. Vijay sets off with the investigation that'll ultimately lead to the fall of Teja's empire.
The dialogues too have been poorly written, like this- Age se kya lena dena jab mileage strong ho. One simply can't call this funny and laugh. Performance wise, Ram fits well in the Inspector role, but the script does no justice to this 'angry man'. Priyanks Chopra's NRI avatar is too loud for her own good. Atul Kulkarni as the crime-reporting journalist has a good role. Sanjay Dutt, Prakash Raj and Mahie Gill are all wasted for their talent. For Prakash Raj, one can only hope that the actor gets no other role that's as classless as this. Apoorva Lakhia's direction is average. Music poor.
This film is just an attempt at cashing in on Ram Charan's fanfare. Watch it if you like that gunda-bashing stuff, otherwise YouTube the 1973 classic to re-ignite the magic. This film will kill the fire.
P.S- The director hints at a sequel during the end. Gawd!
Overall Rating: 1.5/5