Ahoy Gen X! A reel-life political dance amidst the real-life political dance is creating quite a ripples. " Youngistaan" is that political drama that presses the 'Hail the Youth' wala button. Does it help? Well, it does mobilize the youth to join the politics especially when the one governing the country is a hip, video-game playing, lovey-dovey Romeo!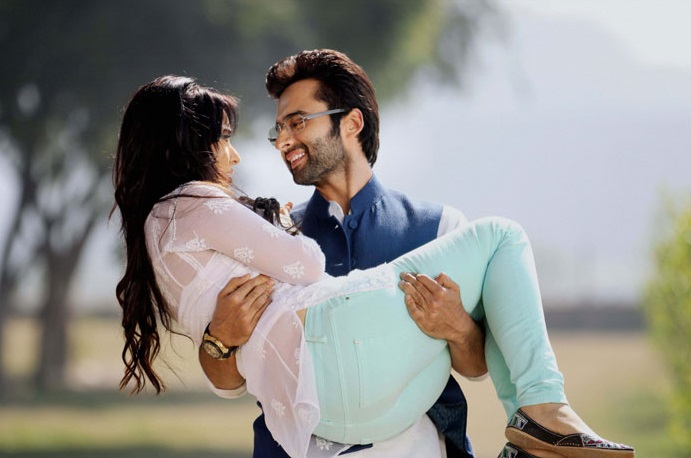 This same situation befell to this happy-go-lucky lad Abhimanyu Kaul (character essayed by Jackky Bhagnani) who's shocked to learn that he is the next to the Prime Minister's throne after his ailing father and current Prime Minister's (Boman Irani's) death. Obviously he is anxious for he doesn't know or understand the ABCs of politics and he will have to leave his beloved abode at Japan and his awesome job as a video-game designer. At last he wears that white-kurta and dons the 'look' and flies back to India churning out youth-centric policies. Not only he is young and hip but also bold and peppy who lives-in with his long-time sweetheart Anwita (Neha Sharma). Despite his grueling schedule, the romance still continues and Mr. PM still manages to take long walks and gorge kulfis in the middle of the night (epitome of time management!). The media buzzes with their love life news and all the eyes follow the lead's love (puhleez! we have other better things to do) and Annwita starts throwing fits of anger complaining about the paparazzi and prying eyes tapping her every move. Also for Abhimanyu, lunches and dinner are no longer about food but about political agendas, elections, bribes, blah blah blah.
The only solace he finds is under the wings of his PA Akbar uncle (Late Farooq Shaikh) who is an adviser to him as well. The increasing pressures, mind-games all take a toll on his otherwise carefree life turning him into a poor chap sandwiched between the ugly raw truth and his painted "moony' picture. As for the actors, Jackky nailed it as a sincere, suave PM while his on-screen lady-love Neha Sharma was pretty but had very less to do than being his date or grumbling when alone. It is our beloved Late Farooq Shaikh saab who get our respects and reverence. Director Syed Ahmad Afzal has tried to explore the theme of governance of a country at the hands of a young-blooded soul. Several things confuse us all like how an inexperienced soul is suddenly laden with all the responsibility despite many running for the PM post. Also, how a young man leaves behind all the important matters behind and tries to promote totally carefree and youth-centric. Although the story is not a sneak-peak into reality and has it's share of flaws, it is fresh and worth a shot.
Politics is a wild wild game, and if you're someone who derives thrill out of the subject, then maybe you should go and give Youngistaan a try.
Overall Rating: 3/5